Germany slashes its forecast for 2013 GDP growth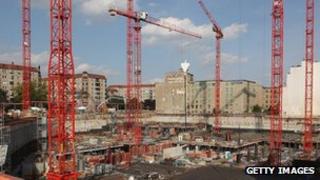 The German government has slashed its forecast for economic growth in 2013 from 1.6% to 1%.
"We are still talking about 1% growth [for 2013], so there's no talk about a crisis for Germany," said Economy Minister Philipp Roesler.
The economy ministry also raised its forecast for 2012 to 0.8% from the 0.7% it predicted in April.
The cut brings the government in line with the group of four think tanks, which cut their forecasts last week.
"Germany is navigating stormy waters because of the European sovereign debt crisis and an economic weakening in emerging nations in Asia and Latin America," Mr Roesler said in a statement.
The predicted levels of growth in gross domestic product (GDP) for the next two years would mark a big slowdown from the previous two years.
German GDP grew 4.2% in 2010 and 3% in 2011.
Germany has benefited from the weaker euro, making its exports more competitive outside the eurozone.
"Although growth of 1% is weak in absolute terms, it still leaves Germany outperforming the rest of the euro area," James Ashley, European economist at RBC Capital Markets, told BBC News.
"We would expect the euro area as a whole to contract by around 0.4% this year and grow only by around 0.4% next year."