Afghanistan telecom sector evolves after decades of conflict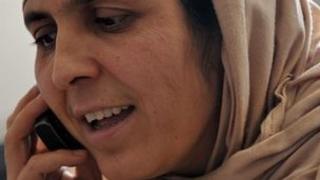 Mohammad Harun Afzali, a university student in Kabul, spends time surfing the internet, chatting on Facebook and Skyping with his relatives abroad.
He may sound like an average youth in any developing country.
But access to these services, which are almost taken for granted in developed nations, hasn't always been easy in this war-torn country.
Ten years ago, Afghanistan had little or no access to the internet. The country's communication network was in disarray.
After three decades of bitter conflict and instability, its infrastructure was in ruins .
Locals say during the Taliban regime there were only a handful of public telephone booths in Kabul to make international calls. People used to wait in long queues for hours to use the phone.
The other option for many Afghans was to go to neighbouring Pakistan to make an international call.
But things have changed dramatically since then.
'Telecom sector has evolved'
According to the World Bank, Afghanistan only had 57,000 fixed and mobile telecommunication subscribers in 2002.
A decade later, it has a vibrant and fast-growing telecom sector, a far cry from the days of Taliban.
According to official figures, the country's five telecom operators now share about 18 million subscribers. The mobile networks cover more than 85% of the population.
"It's a great change for us. I still remember how difficult it was to talk to our relatives abroad 10 years ago. Now, we can easily communicate with anyone inside the country and abroad," says Mr Afzali.
Etisalat Afghanistan, which was the first mobile phone company in the country to introduce the high-speed third generation (3G) network, says the potential for growth is enormous.
"The telecom sector has evolved in the past three years in Afghanistan," says Yasser Aboul Amayem, chief commercial officer of the firm.
"Operators are moving from providing only voice to much more than that.
"We see a huge demand for the data, surely because of the lack of entertainment resources."
And with more than 65% of Afghanistan's estimated population of 28 million being under 25 years of age, the service providers are hopeful that demand for these services will continue to increase.
Challenges ahead
But while mobile phone growth in the past decade has been impressive, internet penetration in the country continues to remain low.
Of that 28 million population, there are just above a million internet users in Afghanistan. A lack of computers, chronic electricity shortages and weak economic conditions are just some of the reasons for the industry's sluggish growth.
But officials say the arrival of 3G network can change the situation.
"We thought if we issue 3G licences we can expand internet access to people. Now we have widespread cellular services available and subscribers can access internet from their phones," Hassam Baryalai, Technical Deputy Minister in the Afghan Communications Ministry tells the BBC.
Afghanistan has also embarked on an ambitious plan to connect the entire country with fibre optics. Mr Baryalai says 20 provinces have already been connected with a fibre-optic network, which in turn has been linked with neighbouring countries.
The Afghan telecom sector has attracted about $1.8bn (£1.1bn) in foreign investment. Officials say this has resulted in the creation of nearly 200,000 jobs for Afghans.
The government is also getting revenue from the telecom companies through taxes, mobile frequency charges, rental fees and by auctioning the 3G network.
Last year, it earned $190m in revenue from the sector.
Security risks
But the situation is not completely rosy for the Afghan telecom sector.
The deteriorating security situation is a major source of concern. There have been Taliban attacks on the telecommunications infrastructure, raising concerns among the business community that this may reduce investment in the sector.
Last year, a number of mobile phone masts were destroyed by the Taliban after the telecom companies refused to shut down communications during night time.
Taliban militants wanted night time transmission to stop to prevent security forces from getting tip-offs by intercepting their phone calls.
But the government at that time warned the mobile companies that their licences could be revoked if they caved in to Taliban orders.
A recent report by the Brussels-based think tank the International Crisis Group (ICG) warned that the departure of Nato forces in 2014 could be followed by the government's collapse and even civil war, unless steps were taken now.
It said the Afghan police and army were unprepared to handle the situation. But the government has dismissed the ICG report.
Afghan officials insist that they are taking enough security measures to protect local and foreign investors.
"Of course, security will affect the growth of the sector. But will not affect the investment. We can assure foreign investors and also existing investors in the sector to keep their continuity beyond 2014," says Mr Baryalai.
These are uncertain times in Afghanistan. But the fast-growing communications network is one of the few success stories in the war-torn country.
Afghans are hoping that the story will have a happy ending.