Coca-Cola issues China warning as sales growth slows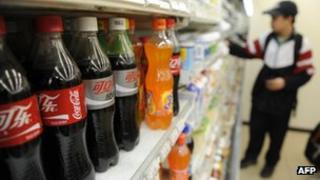 Coca-Cola, the world's biggest soft-drinks maker, has warned that it expects slower growth in China amid a slowdown in the Chinese economy.
The firm said its sales rose 2% in China during the third quarter, as it reported its earnings for the period.
That is down from 7% growth in the country during the previous three months.
China is one of the world's fastest growing consumer markets and has been a key driver of the firm's growth.
"As we look ahead to the next six months, it is reasonable to expect that China's ongoing economic slowdown may have a short-term effect on our industry and on our business," Muhtar Kent, chief executive of Coca-Cola said.
However, he added that in the long run China will continue to remain a key growth market for the company.
More fizz
Coca-Cola reported a net profit of $2.3bn (£1.4bn) for the period, a 4% increase from a year earlier.
Despite the slowing growth in China, Asia has continued to be a key component of the firm's success.
Its sales jumped by 19% in Thailand, and 15% in India in the three months to end of September, compared to a year ago.
Coca-Cola has already unveiled plans to increase its investment in the region in a bid to further boost its market share.
Earlier this year, it announced plans to invest $5bn in India, spread over a period of eight years.
It has also re-entered Burma after a gap of 60 years, following the US government's decisions to lift some sanctions against the country.