Thailand 3G mobile network auction raises $1.4bn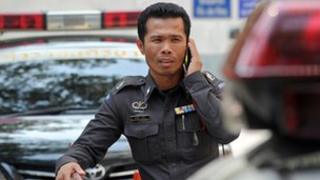 Thailand has raised 41.6bn baht ($1.4bn; £840m) from the long-awaited auction of its third generation (3G) telecommunications network.
Thailand's National Broadcasting and Telecommunications Commission (NBTC) sold nine licences to the country's three leading telecom firms.
The move is likely to help these firms provide more services to smartphone users and boost revenues.
Thailand lags behind its neighbours in implementing 3G technology.
Its 3G auction has taken place nearly a decade after Japan first implemented its 3G network. Japan is now preparing to introduce 4G networks.
'Historic day'
The delay in upgrading the country's communications network and infrastructure has been due to domestic political struggles.
Thailand had previously announced an auction of the 3G network in 2010.
However, a Thailand court halted the move after state-owned telecom giant CAT argued that the regulator at time, the National Telecommunications Commission, had no authority to conduct the bidding.
The government then overhauled the regulatory system and set up the NBTC, giving it a mandate to auction off the 3G bandwidth.
Takorn Tantasit, secretary-general of NBTC described the latest auction as "a historic day".
Criticism
However, the auction has received some criticism in the local press, with the Bangkok Post and The Nation carrying articles quoting analysts who questioned the government's strategy.
Their criticism focuses on the fact that six of the nine blocks on offer were sold at the minimum base price of 4.5bn baht per block set by the NBTC.
The bids in the remaining three blocks were also just marginally higher than the minimum base amount.
"Each operator ends up paying less than 1bn baht a year for the licenses, which is very cheap.
"It will not benefit consumers. It will only help the operators' bottom line," Somkiat Tangkitvanich, president of the Thailand Development Research Institute was quoted as saying by the Bangkok Post.
At the same time, the regulator's decision to allow any mobile network provider to own a maximum of 15MHz on bandwidth, or three blocks also came under criticism.
"Allowing each bidder to bid for an equal amount of maximum bandwidth did not encourage competition," Mr Somkiat said.
"Second, setting the reserve price lower than the real value of the licences was highly damaging once competition was less than it should have been."