Mobile phones: Ofcom studies mid-contract price rises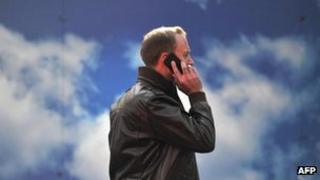 Mobile phone companies could be banned from putting up their prices for customers in the middle of contracts.
The telecoms regulator Ofcom will consult soon on various proposals to make contracts fairer.
Many fixed-term deals have small print allowing firms to put up their prices, with at least 30 days' notice.
But Ofcom has received hundreds of complaints from phone users, with many unaware that their provider can change prices mid-contract.
The regulator said there had been a surge in complaints after Orange staged such a move.
Vodafone has announced that line rental charges on its fixed contracts will increase by £1.55 a month from November, while Three and T-Mobile have imposed similar changes.
Between September 2011 and May 2012 Ofcom had received 1,644 complaints from aggrieved customers of several companies.
"We will look at whether price variation clauses are appropriate at all," said an Ofcom spokeswoman.
"Consumers are saying they are not aware the clauses are there at all.
"And we are looking at the information given at the point of sale," she explained.
Consumers' association Which? welcomed the regulator's announcement, which followed an initial review by the regulator earlier this year.
"Ofcom's announcement today is encouraging news for the 32,000 people who pledged support to our campaign calling for fixed to mean fixed on mobile phone contracts," said Which? executive director Richard Lloyd.
"We hope that Ofcom will now act swiftly to ensure that the mobile phone companies are made to drop hidden clauses in their contracts that allow them to hit consumers with millions of pounds worth of unexpected price increases."
The likely changes will affect not only contracts for mobile phones but also for broadband and landline services.
"Some consumers felt that communications providers should not be able to impose price increases during the life of a contract, and, if they do, the consumer should be able to exit the contract without penalty," Ofcom explained.
"Others complained specifically about the amount of the price increase and how it would impact them."