Goldman Sachs reports higher-than-expected third-quarter profit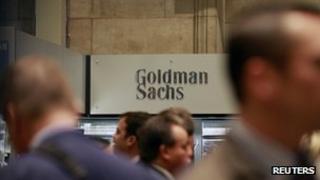 US bank Goldman Sachs says its net profits rose sharply in the three months to the end of September.
Profits for the third quarter were $1.5bn (£930m), higher than expected, compared with a loss of £393m for the same period a year ago.
The bank makes most of its money from providing services to big institutional investors such as multi-national corporations and pension funds.
Net revenues more than doubled to $8.35bn from $3.6bn a year earlier.
The profit figure was boosted by higher income from underwriting new share and bond offerings to investors.
The total paid out in compensation and benefits, including salaries and estimated year-end bonuses, was $3.68bn, more than double the amount for the same period last year.
Goldman's statement said this reflected the higher net revenues made in this year's third quarter.
Goldman Sachs' chairman and chief executive, Lloyd Blankfein, said the results were good in what was a difficult climate: "This quarter's performance was generally solid in the context of a still challenging economic environment."