Eurozone summits: Moments of truth or waste of time?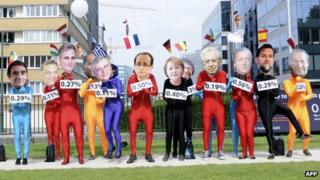 Eurozone leaders met for the umpteenth time in October in their latest attempt to shore up the faltering economies of Europe and restore confidence in the euro.
Since the onset of the financial crisis in 2008, there has been an almost constant string of meetings among top policymakers in a concerted effort to resolve the debt crisis that has decimated the Greek economy and dragged the eurozone to the brink of its second recession in three years.
These include meetings of the Eurogroup, Economic and Financial Affairs Council (known as Ecofin) and European Council, as well as full-blown European Union summits.
And yet still the crisis rumbles on, with Spain looking increasingly likely to follow Greece, the Republic of Ireland and Portugal in seeking a bailout as it struggles to bring its debts under control.
So what have all these meetings, talks, lengthy negotiations and summits been in aid of? What have they actually achieved?
Bankers have long pilloried policymakers for their inability to get to grips with the crisis and implement effective reforms to solve it. But do they have a point?
Decide for yourselves with our handy summary of the major eurozone meetings held since Athens first called on its neighbours for help.
Eurogroup meeting, 2 May 2010
Following a meeting of the Eurogroup - the finance ministers of eurozone members - 14 countries agree to loan Greece 80bn euros ($105bn; £65bn), with a further 30bn euros coming from the International Monetary Fund (IMF), "in order to preserve stability in the euro area".
The loans were agreed on the basis that Greece got its finances in order after years of over-spending.
"Parliamentary approval is expected to follow swiftly," the Eurogroup says, with the loans made available before 19 May.
Emergency eurozone summit, 7-9 May
The big one.
Leaders agree to set up an emergency fund to act as a buffer against any future crises. Or rather they set up two. The first, with 60bn euros behind it, is catchily titled the European Financial Stabilisation Mechanism, or EFSM. The second, effectively a private company set up by members with 440bn euros at its disposal, is the European Financial Stability Facility, or EFSF.
On top of this, leaders also agree to establish the European Stability Mechanism (ESM), a permanent fund with 500bn euros to lend to replace both the EFSM and the EFSF, by 2013. Remember this date.
During the summit, the European Commission also signs off the loan agreement for Greece. The commission also acknowledges the need "to make rapid progress on financial market regulation and supervision, in particular with regard to derivative markets and role of rating agencies".
So far, so good.
Ecofin Council meeting, 18 May
A relatively low-key affair, in which finance ministers take stock of the reforms agreed at the summit.
Significantly, however, when discussing the EU budget for 2011, ministers declare: "The key objective is to support economic recovery in Europe by reinforcing growth and employment opportunities."
Similar sentiments have been expressed in numerous meetings since, suggesting policymakers recognised at an early stage the need for growth despite drastic austerity measures being implemented across the eurozone.
EU summit, 28-29 October
Another biggie.
Leaders agree to get tough on members who overspend and run up big budget deficits, with the EU to be given extra powers over national budgets.
At present, the EU can only punish states which run up deficits above 3% of annual economic output. Under the new proposals, it could slap sanctions on any state deemed to be following a dangerous economic policy, even before it passed the 3% ceiling. Excessive public debt would also trigger sanctions.
The leaders agree that the new mechanism should be ratified no later than the middle of 2013. Such a policy would require amendments to EU treaties.
Extraordinary Ecofin Council and Eurogroup meeting, 28 November
After a request for help from the Republic of Ireland on 22 November, ministers agree to a bailout of 78bn euros. The money comes from the emergency funds agreed earlier in the year, and from loans from Denmark, Sweden, the UK and the IMF. Still, six days to agree almost 80bn euros of loans? Not much hanging around there.
Again, the loans were conditional on Ireland cutting its debt levels.
EU summit, 16-17 December
Lots of strong talk defending the euro in the run-up to the summit by both French President Nicolas Sarkozy and German Chancellor Angela Merkel. If the euro fails, "Europe fails", Mrs Merkel says.
But the summit itself proves something of a damp squib, with no major announcements despite growing concerns about the future of the single currency. In fact, the chancellor pours cold water on talk of so-called eurobonds - bonds backed by all member states rather than individual countries - which many see as an effective way to restore confidence in the bloc.
Emergency eurozone summit, 11 March 2011
Again, little of note is achieved, apart from agreement on a vague pact to co-ordinate economic policies and tighten rules on government spending.
EU summit, 24-25 March
Hopes were high after leaders indicated in the run-up to the summit they were ready to act decisively, but again disagreements between members end in all-round disappointment. The summit is overshadowed by the resignation of the Portuguese prime minister and concerns the country is heading the way of Greece and Ireland.
Informal Eurogroup and Ecofin meeting, 8 April
Plans are set in motion for a Portuguese bailout.
Eurogroup and Ecofin meeting, 16 May
Hey presto, finance ministers unanimously approve a 78bn-euro bailout for Portugal. Again, of course, help depends on the Portuguese government getting to grips with its finances and reducing its debts.
Eurozone heads of state meeting, 21 July
Events force leaders to address the Greek problem, which is threatening to blow the whole euro apart. Further help for the stricken economy is agreed, in the form of a new, provisional 109bn-euro bailout.
The thorny issue of allowing Athens more time to repay its debts, and the possibility of the private sector writing off some of the money it has lent to Greece, is mooted. The European Central Bank (ECB) strongly opposes the idea, arguing such a move would undermine confidence in the euro.
The council of the EU also proclaims its commitment to do "whatever is needed" to protect the eurozone, words that will be used many times by various policymakers over the coming months - words that are met with increasing scepticism by those listening.
Informal European Council and eurozone summit, 26-27 October
Again Greece dominates the agenda, along with the need to recapitalise banks that are heavily exposed to Greek debt. Mrs Merkel proclaims that the "world is watching Germany and Europe".
"They are looking to see if we are ready and able to assume our responsibilities during Europe's worst crisis since the end of World War II," she says. Some argue leaders are doing anything but.
There is also talk of increasing the firepower of the EFSF, with France pushing for the ECB to help push its capacity to 2-3 trillion euros. Germany is having none of it and the idea comes to nothing.
The European Council also expresses its "unequivocal commitment to... accelerate structural reforms for growth and unemployment". At a time when austerity is being forced on every member state, such a pledge appears to be little more than empty words.
Significantly, however, for the first time France and Germany suggest they are willing to let Greece leave the eurozone should it wish to.
EU leaders summit, 8-9 December
Finally there is movement, although not in the immediately pressing area some would like to see, namely Greece.
But Europe takes a big step towards closer integration by agreeing a so-called fiscal pact that involves much tighter budget rules and automatic penalties for those who break them - ideas that are first discussed at the EU summit more than a year earlier. After objections from the UK, eurozone members, together with some others, agree to press ahead. To take effect, the pact must be ratified by 12 eurozone states, with the aim of coming into force on 1 January 2013.
There is also agreement on bringing the eurozone's permanent bailout fund, the European Stability Mechanism, into force in July 2012.
Leaders also agree "that the measures with the most potential to boost growth and jobs should be given priority", although the emphasis remains very much on austerity and debt reduction.
EU summit, 30 January 2012
All eyes remain on Greece and yet leaders again reassert the need for growth and "smart" cuts that allow room for growth, which hardly chimes with the reality of drastic austerity measures that are being implemented by highly-indebted states to try and hit deficit targets.
The European Commission says 82bn euros of EU money is available for countries to spend on projects to boost jobs and growth.
It also says it is confident a deal with Greece's private creditors is imminent - they are being asked to write off 50% of what they are owed.
EU summit, 2 March
All but two - the UK and the Czech Republic - sign up to the fiscal pact. It will now go before national parliaments and, in the case of Ireland, a referendum.
(On 1 June, the Irish voted yes to the pact, and on 11 October, France became the 13th country to ratify it, so the pact will come into force on 1 January 2013, as originally planned.)
Eurogroup statement, 13 March
After private creditors finally agreed to take a massive loss on their Greek loans a few days earlier - writing off about 75% of what they are owed - finance ministers agree to a second, 130bn-euro bailout for Greece. Eight months after first agreeing to help, the eurozone finally signs off on the new loans.
Eurogroup and Ecofin meetings, 21-22 June
Following meetings among eurozone finance ministers, and after months and months of rhetoric, the leaders of the bloc's biggest economies appear to be ready to tackle stagnant growth and high unemployment.
Germany, France, Italy and Spain outline plans to push for a 130bn-euro package to boost growth. But it soon becomes clear there is little new money involved, and analysts suggest the initiative is more symbolic than anything else.
The leaders also seek to agree other proposals on closer integration - including a banking union and a financial transactions tax - to be put forward at a broader EU summit the following week.
However, they again fail to reach agreement on eurobonds.
EU summit, 29 June
Leaders agree to use the eurozone's emergency fund to offer support directly to struggling banks, without adding to government debt. Funds will also be used to buy bonds of highly indebted countries such as Spain and Italy that are struggling to raise money from international investors.
After lengthy talks, they agree to set up a joint banking supervisory body for the eurozone as a prelude to forging closer ties between the bloc's banks.
Ecofin meeting, 10 July
Finance ministers agree to lend Spain 30bn euros this month to help its troubled banks, the first instalment of the package worth up to 100bn euros agreed four weeks previously. They also agree to give Spain another year to cut its deficit to the 3% EU limit.
Eurogroup meeting, 8 October
The eurozone's permanent emergency fund, the European Stability Mechanism (ESM), is officially launched. The original launch date was supposed to be next year, but EU leaders agreed at the end of last year to bring the date forward to July 2012. Still, let's not nit-pick.
EU summit, 18/19 October
Leaders agree to set up a single body to supervise all of the eurozone's banks as a key step towards the ultimate goal of banking union. The plan is for the so-called Single Supervisory Mechanism to help shore up ailing banks and, eventually, give them direct access to loans from the ESM.
But this is pretty much it in terms of actual detail - just how this will happen and when remains unclear. Another grand gesture with little substance, but more should become clear early in the new year.