Risky finance products face instant ban, FCA says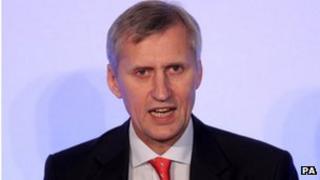 Risky financial products could be banned instantly once the new Financial Conduct Authority comes into force, the watchdog's chief has said.
The FCA, which comes into being early next year, says it will ban products without consultation if it thinks they pose unacceptable risks.
The Financial Services Authority, which the FCA will replace, has published a document called "Journey to the FCA".
It says the FCA will be more selective in how it supervises financial firms.
The FCA's other plans will include:
Banning misleading financial promotions and removing them immediately from the market
Making supervisory judgements about a firm's business model and forward-looking strategy- intervening if it sees unacceptable risks to the fair treatment of customers
Allocating fewer supervisors to specific firms but reacting to problems faster and carrying out more in-depth reviews across a particular sector or market
Bringing more enforcement cases with tougher penalties
The FCA also plans to hold senior managers to account and pursue criminal prosecutions.
The FSA presided over an era dogged by mis-selling scandals, including that of payment protection insurance (PPI) where people were sold loan protection that they either did not need or could not claim on.
An FSA spokesman said that if it had had the powers available to the FCA when mis-selling of PPI came to light it could have moved sooner to outlaw the policies.
New approach
The abolition of the Financial Services Authority (FSA) will see three new bodies created to regulate financial services, two within the Bank of England.
The Financial Policy Committee (FPC) will have overall responsibility for financial regulation and monitoring the risks of the financial sector to the economy. It will oversee, and have the power to instruct, the two new financial watchdogs.
The Prudential Regulation Authority (PRA), will take over responsibility for supervising the safety and soundness of individual financial firms and will also be run from within the Bank of England.
The FCA will concentrate on protecting consumers from sharp practices as well as monitoring workers in individual firms to ensure they stick to industry rules.
Martin Wheatley, the chief executive designate of the FCA, said the new regulator would have a "greater appetite to get things done".
He said resources would be moved in order to run more cross-industry projects to get to the "root cause" of problems.
"Our new approach will include tools, such as competition, that were never available to the FSA," Wheatley said.
Mr Wheatley said he would use his new powers carefully, and moved to reassure the industry, saying that "firms selling the right products, in the right way, to the right consumers have little to fear".