Pension reforms plans 'could cut retirement income'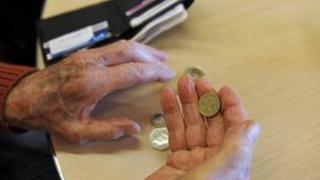 Workers who switch jobs several times could lose up to a quarter of their potential pension funds under proposed reforms, critics have warned.
The government wants to make it easier for employees to transfer pensions from one employer to another when they change jobs.
However, in a letter to the Daily Telegraph, pension funds, unions and consumer groups call for a rethink.
The plans are "impractical" and risk cutting retirement income, they say.
The letter is signed by the National Association of Pension Funds (NAPF), the TUC, charity Age UK and the consumers' association Which?.
'High charges'
The new system of automatic enrolment into pensions means that an increasing number of workers will have savings for their retirement.
However, with the average employee changing jobs 11 times during their working lives, there is a danger that they build up a collection of small pension pots.
Many will lie dormant after they leave their job, with no further contributions for the employer or employee, although they will still be invested and continue to accrue any investment returns.
Under government plans, workers will be able to transfer their pension pots between employers as they move jobs.
However, the pension and consumer groups warn that workers could face higher fees, and a worse deal if they move their built-up pension pot to a new scheme each time.
"Pots could be transferred into poorly managed schemes, with high charges and low investment returns," they say in the letter.
"There would be significant administration burdens and transaction costs imposed on pension schemes - ultimately paid for by consumers."
'Worse off'
Joanne Segars, chief executive of the NAPF, told the BBC that there was no guarantee that a worker moving their pension into a new scheme would not face much higher charges.
"If that happens time and time again as they change jobs, they could be significantly worse off," she said.
The groups have estimated that a worker's pension savings might be cut by a quarter as a result.
Instead, they argued that workers should be able to park their pension savings in an "aggregator pot". This would be a large scheme which, as a result of its size, would have low charges.
It would not be tied to any particular employer and take out the "lottery factor" that would result from the current plans, Ms Segars said.
However, Pensions Minister Steve Webb said: "Far too many people have absurdly small amounts of money scattered between far too many pension schemes.
"I am determined to make sure that people start to build up decent pension pots and keep track of them.
"For too long, an overly complex system has made it hard for people to transfer their money between pension schemes. We need a big shake-up to make it safe, cost-effective and easy to move your pension pot around.
"It is time to stop debating different options and get on with making this positive change for consumers."