Bumi: Nathaniel Rothschild quits board amid Bakrie row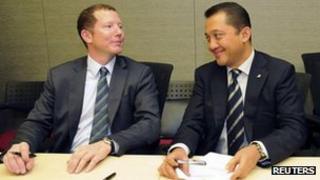 Nathaniel Rothschild, co-founder of coal mining giant Bumi, has quit the firm's board amid a row with Indonesia's influential Bakrie family.
The two have been locked in a dispute over assets of the Bakrie family, in which Bumi owns a stake.
Last week, the Bakrie Group offered to buy back the stake.
In his resignation letter, Mr Rothschild said "it will be a disgrace to proceed with, or even to entertain the proposal".
He said the proposal should not be considered "given the scale of the alleged irregularities, as well as other facts not yet in the public domain".
'Lost confidence'
The dispute revolves around Bakries' Indonesian firm PT Bumi Resources, in which Bumi owns a 29% stake.
Last year, Mr Rothschild had called for a radical clean-up at the firm, leading to relations between the two being soured.
To make matters worse, Bumi said last month that it had launched a probe into "potential financial and other irregularities" at the firm.
Mr Rothschild said the proposal by the Bakrie group to buy back the assets amid the ongoing probe was "not in the interests of minority shareholders".
He said he feared that the chairman of Bumi, Samin Tan, who has close ties to the Bakrie Group, could approve the proposal.
"I am afraid that I have lost confidence in the ability of the [Bumi] Plc board to stand up for investors."