US retail sales see strong rise in September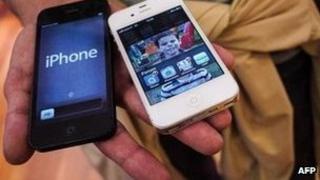 US retail sales saw their sharpest rise last month for nearly two years, with shoppers spending more on electronic goods, cars and petrol.
Sales rose by 1.1% in September, the US Commerce Department said, and August's increase was revised up to 1.2%.
The increases in both months were the largest rises seen since October 2010.
Sales in most major sectors increased. Electronic goods stores saw sales rise 4.5% in September, when Apple's latest iPhone was released.
Sales at car dealers were up 1.3% and petrol sales were 2.5% higher following an increase in prices.
Excluding sales of cars, petrol and building materials, the core measure of retail sales rose by 0.9%, which was much larger than expected.
Retail sales are seen as a key indicator of the strength of the US economy, driving about 70% of economic activity.
The latest figures have raised hopes that US economic growth picked up in the third quarter of the year.
"Across the board it looks better. The sales of iPhones might have something to do it with a 4.5% rise in the electronics and appliances sales," said Craig Dismuke, an economic strategist at Vining Sparks in Memphis, Tennessee.
"This is a good end of third quarter and we have some good momentum to the fourth quarter."
Latest official figures for the second quarter showed that the US economy grew at an annualised pace of 1.3%.