UK household income sees spring rise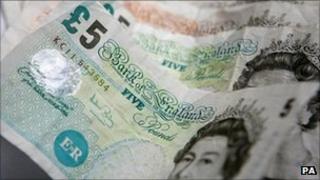 Average UK household income rose by £69 from April to June when the effects of inflation are stripped out, official statistics show.
Average real income in the second quarter of the year stood at £4,510 per household after tax, the Office for National Statistics (ONS) said.
This was up 1.6% from the previous quarter, and 2.8% higher including inflation.
It was also the highest level of income for 18 months, the ONS said.
However, it was still £137 less per household than was recorded in the same three months of 2009.
Spending squeeze
In recent times, high inflation, driven by rising oil and food prices, and higher VAT, have put a strain on family budgets. This has meant that incomes have bought less and less.
Real incomes dipped to their lowest level for more than five years at the end of 2011, but they have been rising slowly since as inflation has fallen back. Many analysts expect the level of inflation to drop again when official figures are released on Tuesday.
The ONS figures include wages, pensions, investment income and benefits, along with an additional element which estimates the value to families of education and healthcare.
However, the latest round of gas and electricity price rises, which have been announced by a number of energy companies, could put pressure on household finances in the coming months.
Recovery hopes
Separately, a monthly spending power report by Lloyds TSB suggested that the financial squeeze has been tighter for households since the latest ONS data.
It said that households had £100 less to spend on non-essential items in September than a year earlier. This was caused by income growth stalling, the report said.
However, the Ernst and Young Item Club's latest quarterly forecast predicted that consumer spending could drive a pick up in the UK economy in the coming years.
It forecast that economic growth will be 1.2% next year and 2.4% in 2014 and 2015. Consumers would spend more as inflation fell and the jobs market recovered, the group said.
In addition, there would be a recovery in the mortgage and housing markets next spring, it predicted.
However, the Item Club warned that the longer-term outlook was highly dependent on economic developments outside the UK.