Whiplash claims from road accidents 'on the increase'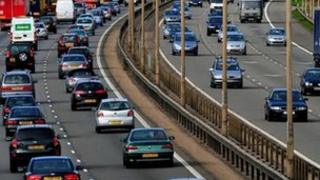 Whiplash claims have continued to rise despite a drop in the number of road accident injuries, a body that represents actuaries has said.
The Institute and Faculty of Actuaries said that a "change in claiming behaviour" had led to the rise.
It blamed the rise partially on claims management companies, saying that the rise in claims was costing the insurance industry an estimated £400m.
However, this had not been handed on in higher premiums for consumers, it said.
Sustainable?
The report collated data from across the motor insurance industry over the last year, and also studied police data for road accident injuries.
"All of the updated data that we have collated supports the conclusion that claims management companies have had a marked effect on the number of small injury, whiplash-like claims," said David Brown, chairman of the actuaries' professional body.
"Despite [the cost], the average cost of a UK motor insurance policy is decreasing.
"This is good news for the consumer, but it does raise the question of how sustainable this is for insurers."
The report said that the average value of a small third-party injury claim was £8,400, with many claims centred around the Birmingham area.
Actuaries are employed by the insurance industry to estimate the cost and risk that companies face.
Inquiry
The figures come shortly after the market for car insurance was referred to the Competition Commission for investigation.
The Office of Fair Trading made the referral on the basis that the market was not working well for motorists.
The regulator said it was worried the structure of the market was making costs and premiums unnecessarily high.
It found that insurers of "at-fault" drivers had no control over the amount spent on repairs or replacement vehicles by "not-at-fault" drivers.