Can China's internet firms balance nationalism with global dreams?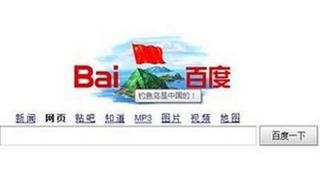 It was a small flag on a small island in cyberspace.
But for Baidu, China's biggest search engine company, the pixelated land grab could complicate its plans for global expansion and attempts to take on Google.
The flag appeared at the height of a recent clash between China and Japan over disputed islands in the East China Sea.
Tempers were flaring, and in many Chinese cities people took to the streets after Japan controversially bought the islands. The mobs targeted Japanese brands with attacks on retail stores and car showrooms.
On 18 September, as the nationalistic cries reached a climax on the street, Baidu put up an image on its homepage of the disputed islands, known as Senkaku in Japan and Diaoyu in China, with a flag claiming them as China's territory.
Clicking on the image took users to a separate page that read: "The Diaoyu islands belong to China."
Users could then plant their own digital versions of the Chinese flags on the islands.
It was a move the company defended, despite taking the page down 24 hours later, and called it an "outlet for patriotic ardour that is more rational" than violence.
However, for many experts it was an unnecessary provocation that highlighted just how much Chinese companies have to learn as they try to emerge from their protected domestic market and become global brands.
"We are not used to this, in most capitalist countries corporate patriotism is not manifest in this way," says Marko Skoric from the Wee Kim Wee School of Communication and Information at Nanyang Technological University in Singapore.
"It might be more like trying to keep jobs locally, but not painting your face in stars and stripes."
International expansion
Within China, the cyber-patriotism merely mirrored the nationalistic anger felt by those who took to the streets in protest against Japan, and other internet companies had similar displays.
Internet giant Tencent's QQ website showed a banner marking the 81st anniversary of an incident that sparked Japan's invasion of Manchuria, remembered every year in China.
But it could be something Chinese companies may have to reconsider as they make their foray into other markets, a process that has already begun.
Tencent has made inroads mostly in Asia, Africa, the Middle East and Latin America with its mobile QQ Browser, counting India and Indonesia as its biggest markets outside China.
It even has a small presence in the US, where Chinese companies have perhaps faced the biggest backlash and suspicion over close alignment with the government.
For its part, Baidu has only just started its expansion outside China with its Hao123 directory listings site in Vietnam and Thailand. It has other projects in Egypt and Latin America.
It has also set up a joint lab in Singapore with the Agency for Science, Technology and Research (A*STAR) which is developing natural language recognition technologies to help Baidu localise its products for the Southeast Asia region.
Baidu commands more than 80% of the Chinese search market, according to iResearch based in Beijing, but has yet to launch its search service internationally.
It has plans to do just that by next year pitting it directly against the likes of Google and Microsoft.
"The China market still has plenty of room ahead of it to grow, but from the inception of this company it was never planned as a just China company. We've always wanted it to be more," the director of international communications for Baidu, Kaiser Kuo, told the BBC.
Scrutiny
Chinese companies and their global ambitions have often made other nations nervous because of their links, perceived or real, to the Chinese government.
This apprehension was brought into sharp focus when a US congressional panel warned that Chinese telecoms firms ZTE and Huawei pose a security threat and should not be allowed to partake in any mergers or acquisitions in the US.
The panel said the firms had not successfully proven they had no connection to China's government and military. Both firms have denied all accusations.
"As Chinese companies succeed in China and muster resources to begin to push overseas into foreign markets... they are going to have to deal with some obstacles," says Josh Ong from The Next Web website in Beijing.
"These companies are under a lot of scrutiny because Western governments and corporations are learning how business is done in China and what that means for things like national security and ethical concerns."
Some analysts say that is why emerging markets are the primary targets for some Chinese companies, where they might not face such scrutiny.
Bill Bishop, a technology commentator in Beijing, says the show of Chinese nationalism on the island dispute likely had very little effect on Baidu's reputation in the markets it is currently looking to expand in.
"Do people in developing countries care if Baidu does this? Probably not," he says.
"Some of them don't necessarily disagree with China's approach to the internet."
China required internet sites to adhere to its policies of censorship, often referred to as the Great Fire Wall. Analysts agreed that the moves by Tencent and Baidu were likely to have been in line with Chinese government expectations.
Road ahead
As they leave the comfort of an environment they have learned to navigate for new worlds, these companies will inevitably face a bumpy road.
"For Baidu's part they probably lost, from an international perspective, some respect from people who thought they were better than that," says The Next Web's Josh Ong.
And as they become more and more visible on computer screens around the world, balancing their nationalism with the sensibilities of their new audiences will be trickier.
"It's a sign of young companies which don't have the international outlook, it's part of a maturation process if they want to go global," says Mr Bishop.
"For a long period of time there was no need to look outside China so it's going to take some time to develop the expertise needed."