ZTE shares slide as it forecasts third quarter loss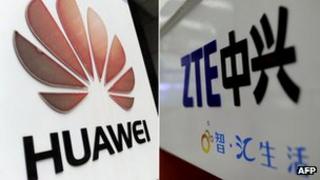 Shares of Chinese telecom equipment maker ZTE have dipped after it forecast a loss of between 1.9-2bn yuan ($300m; £188m) for the third quarter.
That compares with a profit of $299m during the same period last year.
ZTE shares dipped as much as 17% to HK$10.42 on the Hong Kong Stock Exchange and 10% to 9.45 yuan on the Shenzen stock exchange.
Last week, a US panel said the firm was a security threat to the country.
It had raised concerns about the links of ZTE and another Chinese firm, Huawei, to the Chinese government, allegations that the firms have denied.
In its report, the US panel recommended that the two firms should be barred from any mergers and acquisitions in the US, and that US firms should try and avoid using equipment made by the two companies.
ZTE is also being investigated by the US authorities over its dealings with Iran amid allegations that it sold banned computer gear to Tehran.
US sanctions against Iran prohibit the trade of any non-humanitarian goods with Iran.
The firm said that its performance during the period was hurt after it curtailed its sales to Iran in wake on the sanctions.