Equity markets: is this as good as it gets for this year?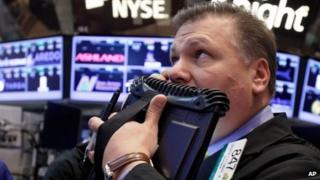 Two corporate results on Friday may be telling us something positive (for once) and different about the US economy.
Disregarding all the fuss about the London Whale and even the law suits over mortgage-backed security fraud, JP Morgan Chase boss Jamie Dimon did actually say that the housing crisis had "turned the corner".
Since the mortgage market feeds directly into the bank's bottom line - which showed a record $5.7bn (£3.5bn) profit - it has some credibility.
Wells Fargo also on Friday delivered mortgage banking revenue of $2.8bn, up more than 50% from a year ago. It is the largest US home lender.
Meanwhile, if you want to go with the surveys rather than the profits, the S&P Case-Schiller house price index is now expected to rise around 1.7% this year. Nothing spectacular, but when the question was last asked of economists in July, the estimate was for a drop of 1.2%.
Meanwhile, away from property (but related to it) the Thomson Reuters/University of Michigan's index on consumer sentiment came in at 83.1. That's quite a jump from 78.3 the month before, and the highest since September 2007. And then there were the payroll numbers from the week before. Why haven't the markets responded with unbridled delight?
Well, it's the election, stupid. And on top of that there is the question whether Congress will get round to steering itself away from its fiscal cliff, which threatens to take large chunks out of US GDP.
Off limits
International Monetary Fund managing director Christine Lagarde pinpointed the sense of anxiety when she said on Friday: "When you buy a ten-year bond you want to know what it will be like in ten years time, when you invest in a house, when you buy a car when you have a child; you want to know what it will be like in ten years time, and the degree of uncertainty that is around is a break on the way people decide."
That said, the US equity markets have had a good year: the Dow is up 9%, the S&P 13.5%, and the Nasdaq almost 17%. However, what is extraordinary about some investors is how they have been prepared to invest in that most uncertain of uncertain markets - Europe. Certainly they have not been shy of putting their money in German bunds, but generally speaking, European equities have been considered off limits.
Well, that's not quite true.
First German equities: a 22% return since the beginning of the year. Certainly this could be seen as another example of money looking for somewhere safe. But the make-up of the German Dax includes Adidas, BMW, E.ON, SAP, Siemens and Volkswagen - big, profit-making names, not dull safe havens.
The best performer on the Dax is Europe's second biggest tyre maker, Continental, which a month ago raised its 2012 profit and revenue forecast as raw material costs slid and margins looked set to widen.
Since January Continental's share price has risen 66%. Only one company in the Dax has fallen since the beginning of the year - Infineon, the chip maker, which is suffering as its customers fight shy of investing in expensive new technology.
In France, the CAC is up over 7% this year, led by cement maker Lafarge (up 58%) which is busily divesting itself of non-core businesses, and chemicals giant Solvay. The biggest loser is the steel-tube maker Vallourec, which is heavily exposed to emerging markets.
Double whammy
And there lies the danger. Germany has led Europe in exporting to the emerging economies of Brazil, Russia, India and China, and is increasingly feeling the pain of their slowing economies.
A week ago, factory orders in Germany dropped at more than twice the rate that most economists had expected because of the double whammy of declining overseas markets and a fall in the home markets too.
On Friday industrial production in the northern European economies showed a pick up, but as James Ashley, economist at Royal Bank of Canada, said: "It still leads Europe on course for recession. The recession may be a little shallower, a little less prolonged, but I don't think it changes the overall dynamic."
Germany in particular may have rebalanced its economy towards domestic consumption: higher wages at home have tempted more Germans onto the streets to spend some of their cash.
But both domestic and foreign demand is now under threat. It has been a good year on the equity markets, despite the relentless diet of bad news, and the future is not altogether gloomy. But it's hard not to think that this is as far as it goes this year.