Chinese exports grew faster than expected in September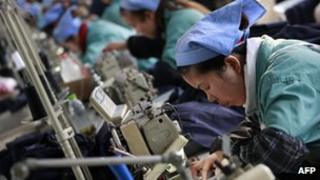 Chinese exports grew faster than expected in September, easing worries about a slowdown in the economy.
Customs data issued on Saturday showed that exports grew 9.9% year-on-year, a big jump on the 2.7% growth recorded in August.
Imports bounced back 2.4% in September, after three months of consecutive declines.
Copper imports rose to a four-month high, while purchases of iron ore were the biggest since January 2011.
Many economists had forecast that September exports would expand by about 5%.
According to the data, China's exports to the US increased at their fastest pace in three months, but those to the European Union fell by 10.7%.
The World Bank cut its growth forecast for China this year to 7.7% from its May outlook of 8.2%.
That is much stronger than the US, where growth is forecast in to be in the low single digits, but painful for Chinese companies that have enjoyed rapid expansion.
The World Bank said China faces the risk of an even deeper downturn if conditions in its key export markets worsen.
In a research commentary from HSBC, analysts said that the "stronger than expected rebound of September exports is helpful to alleviate concerns of a sharper slowdown of the Chinese economy".
The more modest rise in imports will fuel the debate about the strength of Chinese consumers' buying power.
'Modernise'
US Treasury Secretary Timothy Geithner said at the weekend that China should do more to bolster domestic demand.
Speaking in Tokyo at the annual meeting of the International Monetary Fund and the World Bank, he said there had been "some progress" in China's trade relationship with the US, but "domestic consumption still does not play a sufficient role in driving China's economy".
Mr Geithner said: "Progress toward strengthening domestic demand will be good for China, and good for the global economy. In a rapidly changing world, it is crucial that we continue to modernise."
Washington has often complained that China's exports are disproportionate to its imports, accusing Beijing of deliberately skewing the relationship by keeping its currency artificially low.