RBS queries Santander branch sale collapse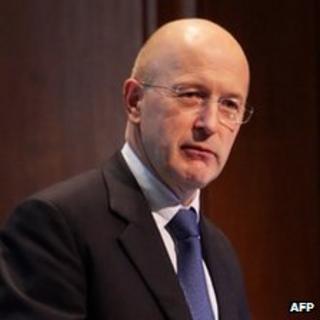 The chairman of the Royal Bank of Scotland has challenged Santander's explanation for pulling out of a deal to buy 316 of its branches.
The Spanish bank has pulled out, saying the deal was taking too long.
It was thought that integrating the bank's computer systems was proving difficult, but Sir Philip Hampton said IT challenges could always be overcome.
He hinted that Santander may have decided that now was not a good time to be taking on new businesses.
Santander is yet to respond to his comments. The bank has previously said it pulled out of the deal after it became apparent that a revised deadline for completion would not be met.
The disposal of the branches was ordered by the European Commission in return for the UK government's £45bn rescue of the bank.
RBS had been working on the sale for more than two years, and struck a preliminary £1.65bn deal with Santander to sell the branches in August 2010.
The EC required RBS to complete the sale by 2014.
The Unite union has urged the government to press the European Commission to lift its requirement because of uncertainty over bank workers' jobs.
Gail Cartmail, Unite's assistant general secretary, said: "The real danger is that the European Commission's requirement to sell branches and assets by the end of 2013 will result in an attempt by any buyer to strip out costs and drive down terms and conditions of hard-working staff.
"At the very least the commission should give RBS more time to ensure that a buyer is found which is good for the taxpayer and the economy, right for competition and above all right for staff."
The BBC understands RBS has already received approaches from two institutions who are interested in buying the branches.
It is not known who the potential buyers are.