How much is your train subsidised?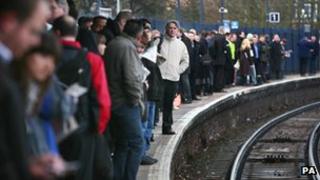 Every time you travelled a mile on a train last year, the government effectively gave the train company an average of 7.5 pence.
Or put it another way, assuming you are a taxpayer, you subsidised your own journey by an average of 7.5p per mile.
That's on top of buying the ticket of course.
In fact, just one train operating company wasn't subsidised overall last year, according to the latest figures from the Department for Transport, and that was First Capital Connect, which runs trains from London, Brighton, Bedford, Peterborough, Cambridge and King's Lynn.
At the other end of the scale, Northern Rail got nearly 35p back for every passenger mile travelled on their trains (this figures does not include Scotrail and Arriva Trains Wales that are subsidised separately by the Scottish Parliament and Welsh Assembly).
Here's the link if you want to see how your train firm got on.
Just like everything else on Britain's railways - ticketing, franchising, finding somewhere to park your bike, these figures are complicated. They include the subsidy paid directly to Network Rail so that they, in turn, can charge the train companies less money to use the track.
But what you end up with is straightforward. Every train firm bar one was helped out by the taxpayer.
'Bust'
The bigger picture here is this - despite the fact that the railways were privatised nearly two decades ago, the industry is still propped up by bundles of public money.
Ministers handed over nearly £4bn last year. Successive governments have been working hard to get that figure down, mainly by charging more for tickets, hence the endless, above-inflation fare increases. But it is still more than 40% of the total cost of running the network.
All four rail unions (ASLEF, RMT, TSSA and Unite) together with the TUC are highlighting these figures as part of their ongoing "Action for Rail" campaign. They argue that the figures prove the franchising system is bust, because it just means public money that could be used to improve services, ends up in the pockets of train company shareholders.
They've worked out that train firms gave £1.17bn in premiums to the government last year, and got £3.88bn back in subsidies. Expect to see protests at many stations across Britain on Friday.
Franchising - giving private companies contracts to run train services - is clearly under a lot of pressure since the government messed up its sums on the West Coast deal. The unions are trying to capitalise on the chaos, to try to get the railways back where they want them, fully in public hands.