British Gas to raise its gas and electricity prices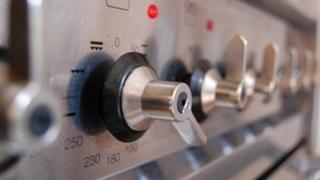 British Gas is due to announce increases to its gas and electricity charges on Friday, the BBC understands.
It is expected to raise its charges for both by about 8%, adding £100 a year to the average dual fuel bill.
The increase is expected to come into effect in about one month.
Its rival SSE, which trades as Scottish Hydro, Swalec and Southern Electric, has already said it will raise its prices by an average of 9% from Monday.
With the average dual fuel bill now more than £1,300, Age UK said many older people were feeling "extremely anxious" about their heating bills.
"Cold homes pose a serious risk to the health of older people, yet huge numbers of older people cannot afford to heat their homes properly," said Michelle Mitchell, director general of Age UK.
Rising costs
British Gas last raised its tariffs in August 2011, when gas prices went up by 18% and electricity prices by 16%.
Then in January 2012, it cut its electricity prices by 5%.
British Gas has so far declined to comment. However, in May this year the company warned that it might have to raise domestic prices this winter.
The firm cited rising wholesale gas prices as the reason, arguing that they were likely to be 15% higher this winter than last.
The rest of the big six energy suppliers are expected to follow British Gas and SSE's lead this year, except for Eon, which promised not to do so this year, so will have to wait until January at the earliest.
In May, British Gas' parent company Centrica said other costs such as government energy efficiency policies would add another £50 to the cost of supplying energy to the average home.
The company is expected to say more about these extra costs, which are understood to have risen, on Friday.
Age UK is calling on the government to invest more in improving the energy efficiency of older people's homes.
The government said it did not speculate about supplier price announcements, but acknowledged that "rising energy prices are hitting many households hard at a difficult time and need to ensure we are doing all we can to help them keep their bills down".
Labour, meanwhile, said the government should "break the dominance of the energy giants, to simplify tariffs and to protect vulnerable customers from being ripped off".
"Hard-pressed families and businesses need much more transparency on costs, pricing and profits to know whether they're getting a fair deal," said shadow energy secretary Caroline Flint.
Under the government's Warm Home Discount Scheme, energy suppliers agreed to give discounts on energy bills to older households who receive certain benefits.
When it was launched last year, the government said it expected the four-year scheme to be worth £1.1bn and to help two million low-income households with their energy bills.