Lenders in fresh round of mortgage cuts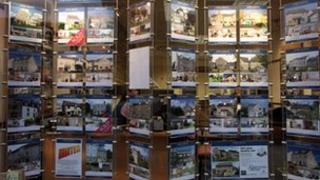 A fresh round of cuts in mortgage rates has been announced by some lenders.
ING Direct is cutting the rates on its two- and five-year fixed rate deals by up to 0.75% on Friday.
The Nationwide building society is cutting all its rates, with its two-year fixed rate deal with a 30% deposit now on offer at 3.09%, down by 0.4%.
Mortgage brokers say the cuts reflect the Bank of England's new Funding for Lending scheme, which aims to both boost and lower the cost of borrowing.
"Funding for Lending is the key here," said Ray Boulger of mortgage brokers John Charcol.
"Wholesale borrowing rates have fallen quite quickly since the scheme was announced," he added.
Small deposits
Ten lenders, large and small, have announced rate cuts this week.
Among them have been HSBC, which has cut some fixed rate deals by between 0.2% and 0.5%, and Tesco bank which has cut some deals by between 0.2% and 0.4%
Aaron Strutt of mortgage brokers Trinity Financial said: "Many of the mortgage lenders have been busy lowering their rates again and best buy deals are getting even lower.
"Most of the changes have been for borrowers with at least a 20% deposit. There will surely come a point when the lowest deals can't come down much more."
One aim of the Bank of England's scheme is to encourage lenders to offer more mortgages to people with relatively small deposits, of 10% or even 5%, rather than to just to those who can put down a deposit of 20% or more.
This mortgage rationing has been in effect since 2008 when lenders realised they had to start building up their reserves to withstand further financial crises.
They also started to fear that big falls in house prices might undermine the security of the mortgages they had already granted to people with very small deposits, or even no deposits at all.
Some £60bn is available for banks to borrow in the first phase of the scheme, which began on 1 August. Banks can borrow up to 5% of their total lending initially.
But Ray Boulger said the early effects were now starting to emerge.
"We are seeing cuts in some of the rates for people with small deposits, although there is still a big differential with loans for those with large deposits."