WH Smith chief executive Kate Swann to step down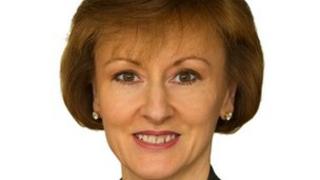 Kate Swann is to step down on 30 June 2013 after nine years as chief executive of WH Smith.
Mrs Swann, who took over at one of the toughest times in the company's history, will be replaced by Steve Clarke, previously managing director of WH Smith's High Street business.
The announcement came with firm's results. Pre-tax profits for the year to the end of August rose 10% to £102m.
It said it was well positioned to grow despite the "challenging" conditions.
Kate Swann took charge of the business in 2003 at a time when it was rapidly losing market share, before presiding over one of the biggest losses in the retailer's history in her first year.
In the retail business she concentrated on core sales of books, stationery, newspapers, magazines and greetings cards. She also separated the news distribution business from the shops and expanded into airports and railway stations.
The retailer's shares fell as much as 7% in early trading in London, before recovering slightly to close down 3%.
"The chief executive is seen as having done a fantastic job over the past nine years and she's leaving some very big shoes for her successor to fill," said Keith Bowman at the stockbrokers Hargreaves Lansdown.
"We've seen slow but steady progress from WH Smith, which is not something we're seeing a lot of in the retail sector at the moment."
The company has raised its dividend for the full year, making it 20% above last year's level.
Its statement to the stock exchange said that fiction sales had been weak in the first half of the year, before picking up thanks to the Fifty Shades erotic trilogy.
It has announced an additional £12m of cost-saving measures, bringing its total cost-cutting target to £25m over the next three years.
The increase in profits for the year was mainly due to cost-cutting, with like-for-like sales, which exclude new store openings, falling 5%.
"The worry is that Swann's departure signals that the retailer's strategy of cutting costs is beginning to run out of steam, making it a good time for her to exit on a high," said Matt Piner at the retail consultants Conlumino.
"If this is the case, then it means that the business will have to instead rely on sales growth to boost profits; something which seems a fairly daunting prospect for new chief executive Steve Clarke."