Singapore: Economic slowdown opens foreign labour debate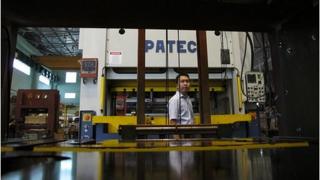 Kelvin Wee looks out at the factory floor of Patec, the precision engineering company his father started 20 years ago.
It is a small operation, mainly the corporate office, that is run out of Singapore for sentimental reasons as Kelvin puts it.
Most of the mass manufacturing has been set up in China, Indonesia and Hungary to be closer to their customers, which include Audi, Volkswagen and BMW.
But as their clients feel the pinch of a global slowdown, the orders rolling in have slowed to a trickle.
Despite the tough times, Kelvin knows what the company must do to ride out the storm and ensure they are still around for the next 20 years.
"We're going to reduce costs, we're going to lean down and we're just going to stick it out," say Kelvin.
"Because someday, someday the market's going to turn. But we don't know when its going to turn. No-one knows."
It is an uncertainty being felt across much of the manufacturing sector in Singapore, which has seen a slowdown in recent months.
That has pushed overall growth down in this and many other Asian economies that rely on exporting to key markets such as Europe, the US and China.
'Open economy'
Singapore's gross domestic product (GDP) contracted 1.5% in the July to September period, compared with the previous three months of the year.
However, an upward revision of the GDP data for the April to June quarter meant the country narrowly avoided a technical recession, defined as two consecutive quarters of contracting growth.
After years of booming economic prosperity, Singapore is now forecasting relatively modest growth of between 1.5% and 2.5% for this year.
Along with manufacturing, data shows tourism and wholesale trade are also to blame.
And the strong Singapore dollar is adding to the woes of many businesses as it makes exports more expensive overseas.
"Singapore is an open economy, which means its open to the vagaries of the trade cycle," says Michael Wan, Singapore economist at Credit Suisse.
"Anything that happens in developed economies outside Singapore will impact manufacturing and services."
Changing workforce
But while much of the growth slowdown is being attributed to external factors, some say there are domestic forces clouding the future outlook as well, and they could be a much longer term problem.
Singapore is in the midst of a transition in the make-up of its work force.
Foreigners make up more than 30% of Singapore's labour force of about three million people.
Some of those are highly educated and highly paid people who may be brought in for leadership roles, or technical experts brought in to pioneer new industries.
Recruitment agencies say these are the foreign workers who are brought in when there aren't Singaporean candidates who posses the required skills or experience.
However, it is the lower end of the spectrum of skilled jobs that is causing social and economic tension.
Singapore imports most of its lower skilled labour from other countries in the region such as India and the Philippines.
And the number of people coming in is growing every year.
"Foreign workers complement the resident workforce in certain sectors, such as the construction and marine sectors, by taking on lower-skilled jobs that support higher-tier professional jobs held by Singaporeans," the Ministry of Manpower's National Population and Talent Division said in a report.
However, in recent months there has been a backlash from some Singaporeans that has sparked a national debate.
In the general election last year, one of the main issues was foreign-born residents who some accuse of taking jobs, pushing down salaries at the lower end and pushing up property prices.
Some Singaporeans feel that too many foreign workers put a strain on the island state's resources causing problems such as an overcrowded public transport system.
Since then the government has taken steps to limit the inflow of foreign workers. It has increased the levy on businesses that want to bring in foreign nationals and made it tougher to qualify for an employment visa.
It has also indicated that it may tighten controls further if required.
"The aim is to restructure the economy away from dependence on the foreign labour force," says Credit Suisse's economist Mr Wan.
'Stronger nation?'
But while that may make political sense, it has implications for firms such as Patec.
The company says that it not always easy to find Singaporeans to do a job for a competitive price, and for owners such as Kelvin that causes a dilemma.
"I could get an engineering graduate from one of the top universities in China for a quarter, or a third" of the pay that I would pay to a Singaporean Kelvin explains.
"And he would be willing to work six days a week 10 hours a day. How do you fight with that?" he asks.
For its part, the government worries that if it limits access to foreign labour too much, businesses will have no reason to stay in Singapore and that in turn will lead to slower economic growth over the coming decade.
In a post on his blog, Tan Chuan-Jin, the acting minister for manpower, said: "To shrink our foreign workforce altogether will also be quite dire as many of our companies may close, relocate and with that a sharp rise in retrenchments and possibly higher unemployment amongst Singaporeans."
"We must therefore rein in the pace of foreign workforce growth, but at a pace that businesses can adjust," he added.