South Korea cuts interest rates in a bid to spur growth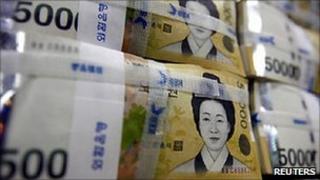 South Korea's central bank has cut interest rates for the second time in the space of four months amid concerns about a slowdown in its economy.
The bank cut its key rate to 2.75% from 3% in a bid to spur growth.
South Korea's exports, one of its biggest drivers of growth, has been hurt by slowing demand from key markets such as the US and the eurozone.
At the same time, domestic demand continues to remain subdued, further hurting economic growth.
Analysts said that with the eurozone continuing to struggle with its debt crisis and the recovery in the US remaining weak, South Korea may need to cut its borrowing costs even further in the coming months.
"There will be no more rate cuts this year," said Park Sang-Hyun, chief economist at HI Investment and Securities.
"South Korea's export-driven economy will have difficulty picking up if the global economy continues to struggle to grow."