Barclays abolishes commission bonuses for branch staff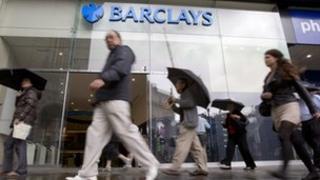 Barclays bank is changing the way it awards bonuses to 18,000 staff in High Street branches and call centres.
From now on, any bonuses will be dependent entirely on giving customers good quality service.
Barclays staff will no longer be paid any commission for selling financial policies.
Commission payments have been at the heart of mis-selling scandals involving personal pensions, endowment policies and payment protection insurance.
Last month, the UK's financial regulator, the Financial Services Authority, called for a clampdown on commissions paid for selling insurance, loans and bank accounts.
Antony Jenkins, Barclays' new chief executive, said: "We believe that becoming the 'go-to' bank is about helping people and businesses get on.
"Therefore the key to Barclays long-term success is the level of service we provide, not how many products we sell. We want customers to choose Barclays because of the great service they receive from us," he added.
Bonuses will therefore depend on a measure of customer satisfaction and the extent to which customers would recommend Barclays to others.
The move was welcomed by the consumers' association Which?
Its chief executive, Peter Vicary-Smith, said: "This is a great move by Barclays and meets one of our demands, that banks must put service over sales.
"Introducing a bonus scheme that rewards customer service is good news, and we'd like to see all banks and building societies doing the same.
"Consumers have been let down by the banks for too long," he added.
The Co-op bank announced a similar move to that of Barclays last week.