Indian MBA graduates have to settle for less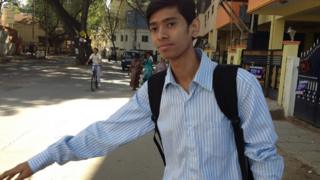 India has the largest youth population in the world, and at one time its graduates could expect to leave university and walk into top jobs. But after spending thousands of dollars on business courses, many are finding that tough economic times have taken their toll on their job prospects.
When Pavan Shanbhog joined a business management course in 2010 at a mid-ranked college near the southern Indian city of Bangalore, he expected that in two years' time he would be working at a reputed firm, earning a high salary.
Pavan graduated from his course in March this year without a single job offer.
Over the next four months he went for countless interviews and was finally hired as a business analyst at a small financial services firm.

"I had never expected that I would have to wait so long to get a job," says Pavan. "I've finally found something where I like the role, but I've had to compromise on pay."

Pavan and his classmates are being offered average annual salaries of $7,000 (£4,370), about 15% lower than similar graduates were getting a year ago.
Hotly contested
His situation could have been very different if he had graduated from one of the country's best business schools, such as the Indian Institutes of Management (IIMs).
Students there are often recruited even before they finish their courses, with some getting multiple job offers.
This year, the average pay offered to students from India's top ranked business school IIM Ahmedabad was $25,000.
This is considered a very high starting salary in the country, although it is no longer rising substantially year after year, as was the case during periods of higher economic growth. 



It is no wonder that there is intense competition to get into these institutes.
This month, more than 200,000 students will be taking the common admission test (CAT) to try to gain entry into one of India's best business schools.
But only the top 2% stand a chance of making it.

That is why students across India take extra classes to prepare for the test.

MBA aspirant Nikhil Cherian has been attending lessons at the Triumphant Institute of Management Education (TIME) coaching centre in Bangalore.
"I think I'll make it to at least one of the top 20 schools, but if I don't I won't just go to any college," says Nikhil.
"I'll wait and take the exam again. The market is so low that if we don't get a degree from a reputed institute, there is no guarantee of a decent job."
Gulshan Chhabra, vice president at TIME, says: "With the investment on education being so high, people are definitely more selective now about which business school they want to get into."
Management education in India could cost anything between $15,000 and $28,000, and many students take loans to pay their fees.
A report from financial research agency CRISIL says increasing awareness among students about the quality of education may result in a number of business schools closing down over the next couple of years.
'Rubbish' students
Industry insiders says the problem goes further than the management institutes. The quality of higher education in India across disciplines is poor, they argue, and does not meet the needs of the corporate world.
This may be reflected in the fact that not a single Indian college made it to the top 200 in the recently published Times Higher Education World University Rankings.

"The top 25% of students are pretty good, the next 25% are passable, but the remaining 50% are rubbish," says Mohandas Pai, the former head of human resources at Infosys, one of India's largest software firms.
"I feel sorry for those kids. I feel sorry for the money their parents have spent because they're not getting anything in these lower rung institutions."
In the past few years, Nasscom, which represents IT firms in India, has said that three out of every four engineering graduates in the country are unemployable.
Mr Pai says this is because the government controls the university curriculum and does not allow it to be revised regularly to keep up with the needs of the industry.
"The biggest human resource tragedy is being played out in India and it is being played out in higher education because of the failure of government policy," he says.

There is also the problem of the shortage of teachers, says Prof Pankaj Chandra, director of IIM Bangalore.
"In India, teaching is made very unattractive. Remuneration for professors is low. We need to develop an ecosystem where academics are valued."
The corporate world has slowly begun to step in to changes things. Some companies have adopted colleges, training their faculty and sharing the latest industry knowledge with them.
But many say the biggest step needs to be taken by the government to allow the education system to function freely, so that India can reap the demographic dividend of its large youth population.