BAE Systems: Where now for the UK's biggest manufacturer?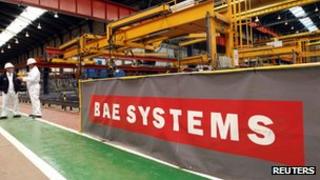 Amid recriminations over BAE Systems' failure to secure a tie-up with EADS, one question looms large. What does the UK's biggest industrial company do now?
Having pinned the future on a deal with the Franco-German group, BAE management will come under pressure to explain a viable alternative strategy.
It was the previous board who sold BAE's stake in EADS' aircraft division, Airbus, six years ago, and focused on winning a larger slice of the giant US defence market.
That strategy was credible while Airbus looked destined always to live in the shadow of arch-rival Boeing, and while US defence spending was being ramped up as the country fought two wars.
But times have changed. BAE could do with a slice of the commercial airline revenues generated by EADS' civil aerospace operations, now that the huge US defence budget is being cut by up to $600bn over the next decade.
Combining a European defence giant with a European aerospace giant seemed to tick all the boxes for both companies. EADS wants to reduce its exposure to the peaks and troughs of the civilian airline market and build its US presence.
The merger would have created a defence titan with combined sales of £60bn and more than 220,000 staff, with more than 50,000 employees in the UK alone.
But the defence/aerospace industry is a political industry, because governments tend to be by far the largest customers. And when national interest - national security, even - is at stake, negotiations can be protracted.
Failed strategy?
So, with an EADS deal off the table, what does BAE do next? "Whatever happens now, BAE can never go back to the status quo of independence and stability," says Echelon Research defence analyst Sash Tusa.
Another analyst, Zafar Khan of Societe Generale, says: "BAE shareholders need to ask management where they go from here, because clearly in agreeing to do this merger, there was an implicit admission that maybe their focus on defence was perhaps a failed strategy."
Analysts believe BAE has three options: a takeover by a US company, to break itself up, or continue as a standalone business.
BAE generates about 40% of its revenues in the US, where it makes the Bradley tank and armoured vehicles, and is long-rumoured to have held talks about merging with one of the giant US defence companies.
In 2000 there was speculation that BAE held preliminary negotiations with Boeing. Then there was talk of a deal with Lockheed Martin or General Dynamics. More recently, Northrop Grumman has been mentioned.
But as Mr Tusa points out in an article in the Times, any US deal is unlikely to be a merger of equals.
"For reasons of size and US shareholder governance, none of these could possibly be dressed up as a merger - it would be a takeover," he said.
"There would be no chance of a London headquarters or the level of influence that the UK might get with the EADS option."
It is likely that jobs would be lost and expertise and technology would migrate across the Atlantic. One major problem, though, is that the Pentagon has previously indicated that it would not want to see further consolidation - that is, a reduction in competition - among its big suppliers. A second hurdle is that the UK has a "golden share" and the potential to block a takeover.
'Special relationship'
So, could the company carry on as it is? Having said it wanted a tie-up with EADS, BAE has perhaps already revealed that it cannot continue as a standalone business.
Some analysts and investors objected to an EADS tie-up because they felt it would jeopardise BAE's classified contracts with the Pentagon. BAE's US business is run almost as a separate company, in order to protect US defence secrets.
There were worries that the Pentagon feared sensitive information could slip into French and German hands. Those concerns have at least gone away. But BAE has other problems.
Its revenues are falling, while contracts are coming to an end, with the likelihood that valuable skilled staff will leave. And there is a £5bn pension deficit that has to be serviced.
Furthermore, is the credibility of BAE's management now in question? Chief executive Ian King and chairman Dick Olver were, after all, pursuing a deal that some BAE investors - notably its biggest, Invesco Perpetual - did not want.
BAE, having spent a decade telling investors that its future lay with the US defence market, has in the past couple of months been telling everyone that its future was with Europe.
Mr King must now come up with a Plan B, said Guy Anderson, senior analyst at defence consultants IHS Jane's. "Companies with high exposure to defence markets, and with little exposure to the recovering commercial industrial and aerospace markets, will need to convince investors that they have viable survival plans," he said.
What of the third alternative, a break-up? BAE would likely find potential buyers for its defence interests in the US - subject to the Pentagon's approval.
But that would leave BAE a much-diminished operation in the UK, without the scale to compete on the world stage. Analysts doubt the UK government would want that. And Mr Tusa believes a break-up could loosen the US-UK "special relationship", which is in part held together by mutual defence interests.
Unions certainly feel that the future of BAE should now be of major concern to the UK government. Unite's national officer Ian Waddell urged the government to "strengthen its golden share [in BAE] and send a powerful message that it backs British manufacturing and BAE Systems".
Whatever route BAE follows, uncertainties will continue, possibly for years. Roger Johnston, analyst at Edison Investment, believes that the "need to do a deal was more pressing for BAE than for EADS".
So, even though BAE management will put a brave face on the failure to do a deal, they will be dogged by the "what next?" question.
"I think [management] will try to articulate what the strategy is going forward, but there will undoubtedly be speculation about a potential break-up and a potential second suitor coming in at some stage," he said.