Merger of BAE and EADS 'close to collapse'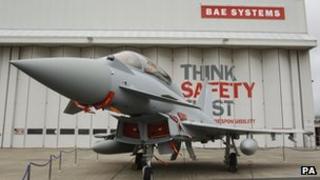 BAE and EADS could well abandon their plan to merge tomorrow, depending on the outcome tonight of make-or-break talks between the British, German and French governments.
It all hinges on whether France and Germany agree to significantly limit their power to influence the merged companies.
According to well-placed sources, right now it looks unlikely that they will agree to the terms demanded by the British government and by BAE and EADS.
In which case, the deal will collapse.
There are three so-called red lines for the companies and for the UK government.
First, that neither France nor Germany should ever own more than 9% of the enlarged group.
Second, that there should be no formal agreement between the French and German governments that they would vote their shareholdings together or in concert.
Third, that directors appointed by governments to a planned new "national security board" - designed to protect the security interests of countries in which the merged group has big operations - should not sit on the top board of the merged group.
I am told that France and Germany want their representatives to also sit on the holding company board.
"There must be no interlocking directorships," said a source.
Right now, getting guarantees from France and Germany on all this is proving impossible, but that could change in the course of the night, I am told.
The British Prime Minister David Cameron is being kept abreast of events.
BAE has a deadline of 17.00 BST tomorrow to decide whether to ask the UK Takeover Panel for an extension of two weeks to the allotted time for negotiating the merger. BAE's board is planning to make its decision tomorrow morning, having reviewed tonight's inter-governmental talks.
My sense from those close to the negotiations is that the collapse of the deal is the most likely outcome.
UPDATE 07:20 BST
A source close to inter-governmental negotiations on EADS's plan to merger with BAE Systems has told me "there was no help from Germany overnight".
In other words, there still appears to be an insuperable obstacle to the deal, which would create the world's largest defence and aviation business, worth around £28bn.
As I explained last night, the boards of the two companies will call the whole thing off, unless persuaded that France and Germany will significantly curb their ownership and control of the enlarged company.
Talks between the British, German and French governments are expected to continue this morning.
But it is increasingly likely that the boards of EADS and BAE will decide to kill the deal, before today's 5pm deadline for requesting an extension to the negotiations.
UPDATE 09:17 BST
My hunch is we will get statements from BAE and EADS around lunchtime or shortly after saying merger is off. Boards will discuss shortly before. The worry in both companies is that the German government is not bending.
UPDATE 12:43 BST
BAE/EADS deal is dead, I have learned. Boards have decided. I will be interested to see what statements say about possibility of trying again in six months.
The reason that they killed the deal is they learned that the German government is opposed to the merger in a fundamental sense.