Maersk ceases Iran operations to 'protect reputation'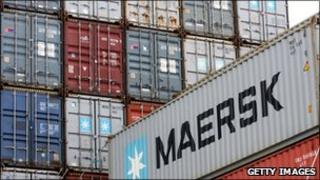 Maersk Line, the world's biggest shipping company, has stopped calling at Iranian ports as a result of sanctions against the country.
The company said it was not prepared to risk the reputational damage associated with dealing with Iran.
It said it had ceased operations for the "foreseeable future".
The US and European Union have imposed sanctions due the country's nuclear programme, which Iran says is for energy needs and not nuclear weapons.
Frozen out
"Maersk Line has ceased to call in Iran," a spokesperson for the group said.
"This is a pragmatic decision based on an assessment of balancing the benefits of doing limited business in Iran against the risk of damaging business opportunities elsewhere, particularly the US."
The firm went on to say its main business with the country was transporting food and other goods to the people of Iran, and it regretted no longer being able to do so.
"Maersk Line will maintain a dormant business entity in Iran and will look to resume business should the sanctions regime be eased," the spokesperson concluded.
The sanctions imposed in Iran have targeted the country's banking sector, which has been effectively frozen out of the global banking system, and include a ban on the trade of Iranian oil.
As a result of the sanctions, the Iranian rial has plummeted in value against other international currencies.