UK digital advertising spending higher, survey says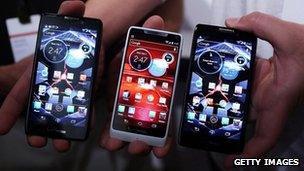 Spending on digital advertising in the UK has soared this year despite the recession, fuelled by smartphone sales, a survey has indicated.
Mobile phones now account for 7% of all digital advertising spending, it said.
Paid-for search increased by 15.9%, on a like-for-like basis, to £1.53bn.
"As digital technology and services evolve to make consumers' lives easier, more connected and more fun, it's no surprise that advertisers are coming to the digital party with bigger budgets, despite the challenging economic times elsewhere," said Tim Elkington, director of research and strategy at the Internet Advertising Bureau.
"Almost 60% of people in the UK have a smartphone, average UK household broadband speed is now 9MB and social media accounts for one-fifth of all internet time," he added.
Mobile phone-based ad spending grew particularly quickly, up by 132% to £181.5m.
And classifieds grew 7.2% to £427m, the survey showed.
Advertisers in consumer goods have joined the finance sector as the biggest spender on digital display advertising - both accounting for almost 16% of display advertising expenditure in the first half of 2012, the IAB said.
Related Internet Links
The BBC is not responsible for the content of external sites.