What Barclays deal means for ING Direct UK customers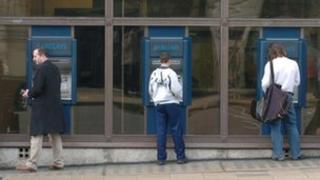 Some 1.5 million retail customers of ING Direct UK - mostly savers - are to be transferred to Barclays Bank.
UK banking giant Barclays has agreed to buy ING's UK retail arm, taking on its £10.9bn deposits and £5.6bn mortgage book.
Customers with high levels of savings in both banks should take note, and some questions have been raised over the impact on competition on the High Street.
So what does it mean for retail customers?
I'm an ING Direct UK customer. What do I need to do?
Very little at this stage, as the deal has yet to be fully confirmed.
Barclays says that it hopes everything to be signed and sealed by the spring of 2013, after which ING's customers will start to be integrated. The process will take about two years.
In the meantime, ING advises its customers to make sure the bank has their latest contact details. Full details of the planned sale will be sent to customers in a few weeks, ING says.
Anything else customers should be thinking about?
Those who have savings in both Barclays and ING Direct UK should consider whether they are covered by a savings safety net.
At present, the first £85,000 of funds saved with Barclays, and the equivalent of 100,000 euros saved with ING are all protected. So, if either bank goes bust, then customers will have savings up to this level protected.
Savings with Barclays are covered under the UK's Financial Services Compensation Scheme, and those at ING are covered under the EU equivalent because the banking group is Dutch.
However, after the deal is signed in the spring, only the first £85,000 of a customer's combined savings pot will be protected under the UK scheme.
What will happen to ING customers' mortgage and savings accounts?
Barclays says that they will be transferred on the same terms and conditions.
For example, savers will get the same rate of interest that they do at the moment.
But the question is how long that will last for. Will mortgage customers be able to get the same rate when their deals expire? Will savers still find their account on the best-buy tables?
Some commentators have already raised concerns that some of the more attractive deals offered by ING will disappear.
"It will be a shame to see the ING brand disappear especially as it has built up a reputation for offering best-buy rates on its savings accounts," says Sylvia Waycot, of financial information service Moneyfacts.
"Consumers are bound to be hit by less choice with the merger of these providers, and unless Barclays offers the high rates previously enjoyed on ING accounts, the average will become the norm and the exciting will become yesterday's dream."
So, bad news for consumers then?
Not necessarily.
Firstly, Dutch banking group ING announced in August that it was planning for its retail operations to exit the UK, in order to raise funds to repay a bailout from the Dutch government. So those deals might not have been around for long anyway.
Secondly, ING customers do not have the opportunity to go into a branch at the moment. Their transactions are carried out online or through call centres in Reading and Cardiff.
After the deal is completed, these customers will be able to use Barclays' extensive network of branches across the UK.
ING's commercial banking in the UK will continue as it has been.
There seems to be a lot of these mergers going on
Yes, and this deal is relatively small compared to some.
Barclays already has 15 million savings customers, and about a million mortgage customers.
The deal will add about 10% onto its savings volumes and increase its mortgage book by about 5%.
One of the other big deals going through at the moment is Lloyds Banking Group selling 632 of its branches to the Co-operative Bank.
Lloyds was forced to sell these branches as a condition of its emergency takeover of Halifax Bank of Scotland in 2008 amid the financial crisis.
In the past few years, Spanish bank Santander has bought Abbey, Bradford & Bingley and Alliance & Leicester.
Didn't these mergers lead to some computer problems for those banking online?
In some cases there have been some issues, but Barclays says that it will take some time to "look under the bonnet" and ensure that the integration works for customers banking online.
Meanwhile, ING Direct UK's 750 staff will initially transfer to Barclays. However, Barclays says it is too early to say what the impact will be on ING staff once the deal is completed.