UK economic growth outlook still weak, NIESR says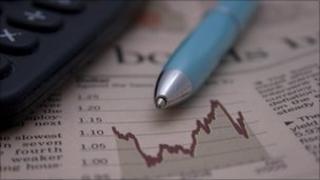 The UK economy's outlook remains "weak" despite experiencing a recent growth spurt, a respected think tank has said.
The National Institute for Economic and Social Research (NIESR) said the economy grew 0.8% in the last three months compared with a year ago.
It is the best performance since July 2010, but NIESR attributed it to special events, including the Olympics.
The economics research group said that the UK would return to its trend growth rate of 0.2%-0.3% in the coming months.
The September output figure was flattered by the value of Olympic ticket sales, while the additional bank holiday for the Royal Wedding also reduced output in the comparable period a year ago, the NIESR said.
Overall output remains almost 4% below its peak level in 2008, making this easily the worst performance by the UK economy since before the 1930s.
The institute said that its early forecasts had a margin of error of 0.1-0.2 percentage points.
Meanwhile, the International Monetary Fund has significantly downgraded its own growth forecast for the UK.
It now expects the economy to shrink by 0.4% this year. As recently as July it had been expecting positive growth of 0.2%.
The Prime Minister David Cameron responded to the IMF report by saying that the UK economy was going through a "slow and difficult healing process" as it rebalances.
"We need more private sector growth, we need a smaller public sector, we need to make more, sell more overseas and manufacture more," he told BBC Radio 4's Today Programme.