Can Mercedes climb back to the top position?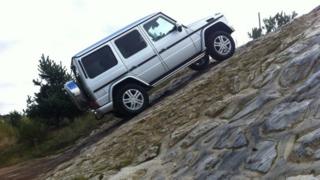 Rugged and able with plenty of brawn, the Gelandewagen seems a good choice for anyone preparing to venture into uncharted territory.
Travelling across the rutted "elephant steps", through deep muddy puddles, or down steep and slippery banks at the off-road track at Brooklands, the large 4x4 is clearly in its element.
But as the 2.5-tonne truck prepares to ascend the slippery "ski slope", a question about its corporate capabilities springs to mind: Is this the right vehicle to get Mercedes to where it wants to be?
Dieter Zetche, the walrus-moustached chief executive of parent company Daimler, believes Mercedes needs to climb back to the top where it belongs, from where it should be towering over its arch rivals BMW and Audi.
His ambitious goal was outlined a year ago in a growth strategy that would see Mercedes sales double and then some to 2.7 million cars by 2020, while simultaneously delivering a 10% return on investment to Daimler shareholders.
By 2020, he told BBC News at the time, Mercedes should have regained its position as the world's leading premium carmaker, both in terms of sales and profits, as well as quality and brand image.
A year on, the targets remain in place, but the bravado seems less pronounced.
Challenges ahead
Unveiled during a year when Mercedes sales of 1.26 million cars were dwarfed by Audi's 1.3 million and BMW's 1.66 million cars sold, Mr Zetsche's growth plan was nothing if not bold.
During the first nine months of 2012, Mercedes sold 964,900 cars, a 5% rise over the same period in 2011. Such a growth rate would be more than welcomed by many carmakers, but when compared with Mr Zetsche's lofty targets it has been widely seen as disappointing.
Next year looks even bleaker, Mr Zetsche says, referring to how the eurozone crisis has knocked the European car market for six, and how an economic slowdown in China has put the brakes on breakneck growth in car sales there.
Consequently, it seems ambitious sales and profit targets set during better times are now less likely to be met.
"It's obvious that whatever we said in the past as far as guidance is concerned, we always said - and explicitly - [that it would be] in a given environment as far as GDP is concerned, as far as market developments are concerned, as far as exchange rats are concerned, and so on," Mr Zetsche says.
"It was always qualified in that sense. These parameters in recent times have not improved. Therefore, what's lying ahead of us is becoming more challenging."
Beaten by rivals
Blaming global economics when things go wrong is clearly tempting, but as a defence the argument is diluted by BMW's and Audi's ability to rise above it all and maintain strong growth during tough times.
Whereas Mercedes failed to top a million cars sold during the January to September period, Audi sold 1,097,500 cars while BMW clocked up sales of 1,109,900, both of them recording growth rates much greater than the one enjoyed by Mercedes.
And this is not a recent phenomenon. Mercedes has been trailing BMW for years, both in terms of volume and profit margins, and lately Audi too has shot past to second place.
The situation is reflected by the value investors place on the companies' shares.
Audi is part of the vast Volkswagen Group, so direct comparisons are difficult, but sizing up Mercedes' shares against BMW's is revealing. Since the middle of 2009, when the entire global car industry was in crisis mode, Mercedes share price has almost doubled from about 20 euros to about 38 euros.
This sounds impressive, until you hear that BMW's share price more than trebled from less than 20 euros to more than 60 euros during the same period.
Broader model range
Mr Zetsche, who has been in charge of Daimler since 2006, has clearly not delivered what investors had hoped for, yet he is still deemed to be the best man to take the company forward towards its stated 2020 target.
His contract is set to expire at the end of 2013, but it is widely expected to be extended for a further three years until the end of 2016. An announcement is expected early next year.
The apparent confidence in Mr Zetsche's ability to deliver is based on his plan to expand Mercedes' customer base.
And no, he is not planning to rely merely only on models such as the £80,000 Gelandewagen - which is as rugged as a Land Rover Defender, only with a price tag and levels of luxury more akin to a Range Rover.
Instead, Mercedes will be adding 10 new models, such as coupes and crossovers, over the next decade or so.
"Some of the new models are more significant in terms of entering total white space for us, others are closer to existing products," Mr Zetsche says.
"This will be one important element of driving growth," he says, stressing that the 10 models come in addition to about 20 refreshed versions of existing models.
It is a strategy that should help Mercedes grow at a faster pace than BMW and Audi in the years ahead, largely because the three-pointed star will be challenging them in segments of the market that it has yet to enter.
After all, BMW and Audi's growth in recent years has been bolstered by new models, for instance small crossover vehicles such as the BMW X3 and X1 or Audi's Q5 or Q3, Mr Zetsche insists.
"When you look at our competitors, you'll can see that their core programmes have slightly diminished, and the growth is basically from the addition of new products to their portfolios," he says.
Efficiency and growth
Having recently refreshed the Mercedes A-Class and B-Class, two of the carmaker's smallest models, Mr Zetsche believes there are already signs of success.
But to make the plan work on a commercial level too, and thus achieve bold profits targets, the pacier model roll-out will need to be accompanied by careful cost-control, he reasons.
"To be able to invest heavily in our future, to fulfil our ambition to become number one at the latest by the end of the decade, we have to do whatever we do with the highest level of efficiency," he says, offering a clear hint that cost-cutting programmes could be announced within weeks.
"We will not exclude any part of this company from scrutiny as we strive to become more efficient.
"This is exactly why efficiency and growth are two sides of the same coin."