Lynas learns fate for Malaysia rare earth refinery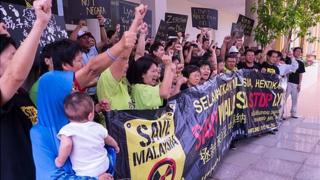 A court in the Malaysian town of Kuantan has again delayed a decision on a petition from environmental activists and local residents to revoke the operating licence of a planned rare earths refinery in the nearby port of Gebeng.
This has forced Australian mining firm Lynas to postpone starting the smelting of ore at the plant, planned for later this month.
If and when it does start, it will be the first significant source of rare earths to come on stream outside China for many years.
It was yet another act in a drawn-out saga which began more than 10 years ago, when Lynas abandoned gold and set out to become one of the world's biggest producers of so-called rare earth elements.
These are a group of 17 minerals with names such as lanthanum, yttrium and neodymium, which are essential in a wide range of modern technology, from hybrid car batteries to low-energy light bulbs.
They are found in many places, but in recent decades, they have been refined almost exclusively in China, where many of the products that use them are made.
Now China is restricting exports of rare earths and trying to clean up what has become a polluting industry at home.
Intense opposition
Lynas owns one of the richest sources of rare earths in its Mount Weld mine in West Australia.
But it has chosen to process the ore in Malaysia, after an earlier plan to build a refinery in China fell through, because of Australian government objections to the likelihood that China would impose restrictions on Lynas's products.
It also had permission to build a refinery in Australia, but rejected this option on the grounds of cost.
Lynas got a green light from the Malaysian government to build in an industrial park near Kuantan as long ago as 2007. As a "pioneer investor", it was offered a 12-year tax holiday. But they both underestimated opposition to the plan.
An earlier rare earths refinery near the northern city of Ipoh, jointly owned by the Japanese conglomerate Mitsubishi and other companies, was shut down in 1992, after local residents complained about health problems and birth defects which they believed were caused by radioactivity in the slag heaps.
The company that owned the refinery has spent years cleaning up the site. Throughout this process, it has denied responsibility for any health damage.
That experience has helped fuel opposition to the Lynas project in Kuantan.
Lynas says the ore from its Mount Weld mine is much less radioactive than the tin tailings used in the Mitsubishi plant.
It says its refining will be much safer, and that the final waste material will have levels of radioactivity low enough to allow it to be transported overseas. But West Australia will not allow the waste to be shipped back there, however low the radioactivity.
So Lynas is now talking about reprocessing it into other products, like building material.
Mistrust
Successive government inquiries in Malaysia have found the Lynas plans to be safe.
A team from the International Atomic Energy Agency (IAEA) assessed the Kuantan plant and judged it to meet all safety standards - they say the Lynas facility is state-of-the-art, and very well engineered.
Other mining experts have reached the same conclusion.
So why are activists and local residents still so passionately opposed to it? After all, the Lynas refinery will provide about 450 jobs, and could make east coast Malaysia an attractive location for other investors in need of a reliable supply of rare earths.
The real issue is trust. People just don't believe the promises being made to them.
Tan Bun Teet, a spokesman for the campaign Save Malaysia Stop Lynas which is leading the fight against the plant, says the official inquiries and the invitation to the IAEA only happened after people protested.
If the refinery is so safe, why not build it in Australia, he asks? He points out that there is still no clear plan for the final disposal of the processed waste.
The refinery lies next to a forested river, which empties into the South China Sea, where Malaysian fishermen still fish for a living.
High stakes
Lynas may be unlucky, in that its rare-earths project has caught the imagination of a Malaysian public accustomed for many years to keeping quiet about sensitive issues.
In the past the government has used harsh security and defamation laws to imprison some of those who spoke out against alleged abuses. People are still often reluctant to talk about what they call 'government issues'.
The mainstream media is strictly controlled too.
But opposition to the Barisan Nasional coalition that has governed Malaysia since independence is growing; there is a real possibility that it will lose power for the first time in the general election which must be held by June next year.
Opposition parties have jumped on the Lynas refinery as an issue which could weaken support for the government. The campaign against it has been organized through the internet and social networking sites.
Lynas has staked everything on the success of its Malaysian venture, and is unlikely to give up, even if there are repeated delays. But it urgently needs to start processing and selling rare earths, to generate revenue.
The Malaysian government's bid to attract new foreign investment to sustain its economic growth would also be hurt if the Lynas project is blocked.
Those arguments have little impact on local sentiment. As one young woman told me, "This is our home. If it does get polluted, where will we go?"