Timothy Geithner and Ben Bernanke in India amid reforms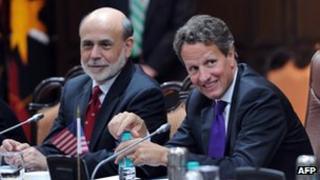 US Treasury Secretary Timothy Geithner and Federal Reserve Chairman Ben Bernanke are visiting India to boost economic ties between the two countries.
Trade between the two countries stood at $57.6bn (£36bn) last year.
It is likely to increase after India's reforms to open key sectors, including retail, to foreign investment.
Meanwhile, India is expected to ask for greater access to the US market, especially for its technology firms.
The US is India's biggest market for information technology exports and India is keen to boost growth in the sector.
It wants the US to open up its Federal contracts more and allow Indian firms to bid for government business.
At the same time, the two sides are also expected to discuss the concerns of India firms over social security payments for employees travelling to the US on short term contracts.
However, the BBC's Shilpa Kannan in Delhi said that with the US presidential elections just around the corner, it was highly unlikely that the US would make any move that may be considered politically sensitive.