Canadian security move fans fears of Huawei exclusion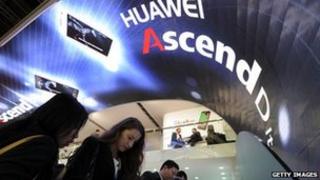 Canada has invoked a "national security exception" for hiring firms to build a secure communications network, allowing it to block those seen as a security risk.
Canada did not name any firms, but there is speculation the move may be targeted at China's Huawei.
Questions have been raised about Huawei's ties to the Chinese military, something the firm denies.
On Monday, a US panel said that Huawei posed a security threat to the country.
The panel also recommended that equipment or parts made by Huawei and another Chinese telecom equipment manufacturer, ZTE, should not be used by government contractors.
Canada's decision comes amid fears that sensitive communications networks could be used to collect the information and data they transmit.
"The government's going to be choosing carefully in the construction of this network, and it has invoked the national security exception for the building of this network," said Andrew MacDougall, spokesman for Canada's prime minister.
"I'll leave it to you if you think...Huawei should be a part of a Canadian government security system," Mr MacDougall was quoted as saying by the Reuters news agency.
Global impact
Huawei is one of the world's biggest manufacturers of telecom networking equipment and operates in almost 150 countries.
It has spent the early part of this week reacting to the US claims and allegations, trying to limit the report's impact on its global business operations.
Scott Bradley, a spokesman for Huawei Technologies Canada Co Ltd, said the Canadian government's latest move was unlikely to cause it problems.
"The national security exception only applies to foreign companies," he was quoted as saying by the Reuters news agency.
"Huawei is fully incorporated in Canada, and operates as a subsidiary Canadian company. This alone effectively enables us to bid on any potential procurement opportunities."