Viewpoint: Is the Asian growth story faltering?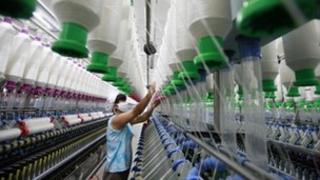 Has Asia lost its economic verve?
That is one of the questions floating around now, in the wake of lower forecasts for Asia's economic growth.
For some it might be an easy assumption to make, if you look at the numbers.
According to the World Bank's own forecasts, which were released on Monday, the rate of economic growth in developing East Asia and Pacific has fallen to its lowest level since 2001.
And it is even lower than the rate recorded during the worst of the financial crisis in 2009, when the region benefited from China's massive stimulus.
The bank sees growth in developing East Asia and Pacific slowing by a full percentage point to 7.2% this year, before recovering to 7.6% next year. Of special significance is China's slowdown to 7.7% this year, down from 9.3% in 2011.
But while that might seem like a significant drop, let us not forget that East Asia's growth rates would still be the envy of many in the developing world, let alone the developed world.
Moreover, developing East Asia and Pacific is of growing importance to the world.
The region's share in the world economy has tripled in the last 20 years to almost 18% of global output.
Remarkably, in the past three years, East Asia accounted for almost half of global growth when measured in comparable prices, or purchasing power parity.
Even over the past two years - with a tepid economic recovery in the US and problems in the eurozone - East Asia accounted for more than a third of global growth.
Risks and potential
However, as impressive as this growth has been, there is hardly room for complacency for developing East Asia.
The ongoing instability in the eurozone continues to pose a risk, even if a somewhat smaller one after recent European Central Bank actions and progress after Germany's Supreme Court's ruling on the European Stability Mechanism.
And with modest prospects for Europe and the US, East Asia can no longer rely on trade to drive the region's growth.
Luckily, there is strong domestic demand, particularly among the large Asean countries, helping offset these negative external factors. So there seems no immediate need for a major shift in the macro policy stance.
At the same time, there has been some loosening on the monetary front and fiscal consolidation has been postponed in several countries. This should provide sufficient impetus to maintain growth at a reasonable level given the fragile global economy.
But for growth to remain high in the region, policymakers know they need to focus more on the structural agenda.
As most countries are becoming middle income, an increasing share of growth will have to come from productivity increases, rather than from the mobilisation of capital and people.
Investment in infrastructure, education, innovation, openness to trade and foreign investments, and lowering the costs of doing business can all help move countries up the productivity ladder.
China factor
All eyes will now be on China because the country is suffering a double whammy.
Its slowdown has been driven by weaker exports as well as weaker demand at home, in particular investment growth. Last year's moves to cool the hot real estate market have clearly had an impact.
In the event of a more rapid deceleration in China, the ripple effects would extend far beyond East Asia. Lower commodity prices and lower exports to China would have an impact across the globe. China's share in the world's crude oil market is about 10%, up from 1% two decades ago.
The country accounts for a remarkable 43% of the world's refined metals consumption, up from just 5% in 1990, and it is metals and minerals prices that would react most in case of an unexpected slowdown, notably of China's investment.
Of course, market dynamics could amplify the impact of slower demand from China.
Does China's slowdown this year usher in a new era of slowing growth for China, and consequently for the region?
Not necessarily.
First, for next year we expect a mild rebound in growth on the back of monetary measures already taken, announced local government stimulus packages and more rapid approval of investment projects by central government.
With world trade recovering a bit from its low growth this year, China could reach growth of a little more than 8% in 2013.
In the medium term, as China is growing richer and the structure of its growth changes, a gradual slowdown would occur in the next two decades.
However, this could leave potential growth still above 8% until well into this decade.
And double-digit growth need not be over either: Rapidly growing East Asian economies such as Japan, Taiwan (China), Hong Kong and Korea in the past all raked up growth of more than 10% at a time when they were richer than China is today.