George Osborne chooses his words carefully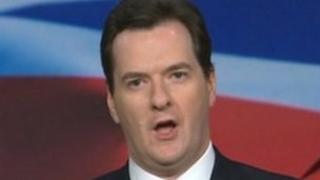 There was some politics in George Osborne's speech on Monday - as you would expect, at a party conference. But no policy fireworks. And he gave only the broadest sense of the tough decisions he would be taking in the months ahead. That's probably not surprising either.
The difficult reality for Mr Osborne is that the coalition has been struggling to deliver on the two goals that were right at the centre of its economic strategy: growth and deficit reduction. Put simply: the lack of one has made the second a lot more difficult.
As I have previously described in detail, these problems are going to come to a head in the next few weeks, because the Office for Budget Responsibility (OBR) is likely to have some bad news for him.
If the independent forecasters are right, the OBR is almost certain to tell him that he will not be able to meet his debt target - that is, to have the stock of debt falling as a share of GDP in 2015 - without additional tax rises or spending cuts, before the election.
If the FT's economics editor, Chris Giles, is right, the OBR is also likely to tell him (again) that the structural hole in the public finances is larger than previously thought, meaning even more austerity is required, well into the next parliament.
Last year, Mr Osborne decided to put off additional measures to fix the deficit until after the Budget. The betting in Westminster is that he will do the same again in December's Autumn Statement. But this time, that is likely to have the extra consequence of forcing him to abandon, or suspend, his debt rule for 2015.
Were there any clues to that in Monday's speech? The simple answer is no. In fact, he did not mention either of his two key fiscal targets in his speech.
To be fair, he didn't mention them in last year's party conference speech either. It's not that kind of moment.
No 'growth'
But what about the coalition's core objectives: economic growth and the "deficit reduction plan"? They have each played a prominent part in previous speeches by Chancellor Osborne.
You might be surprised to hear that he didn't directly mention either of these terms on Monday. As many of the Twitterati have noted, he didn't use the word "growth" at all.
Some will say he didn't mention them because he cannot be sure of achieving either growth or deficit reduction in 2012. The economy will probably be smaller at the end of the year than it was at the start, while the government's deficit so far in 2012-13 has been running about 20% higher.
Or, perhaps, we're all reading too much into his choice of words. Either way, the next few weeks are unlikely to be a fun time to be chancellor.