Lower price stamps offer for benefit claimants outlined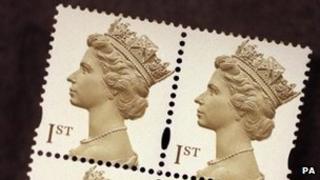 Leaflets outlining who is eligible for cut-price stamps this winter are being sent out to UK households.
Prices for first and second class stamps rose earlier in the year, but some people on benefits will be eligible for 36 stamps at the former prices of 46p and 36p from 6 November.
The offer is open to those who receive Pension Credit, Employment and Support Allowance or Incapacity Benefit.
The current price of stamps is 60p for first-class and 50p for second-class.
The prices rose at the end of April, but Royal Mail said that some customers who faced financial difficulty would receive temporary assistance at Christmas - the busiest time for the postal service.
"Royal Mail is pleased to be introducing this scheme to help our customers, who are on these benefits and facing extremely tight budgets this Christmas, purchase first and second class stamps," said Stephen Agar, of Royal Mail.
Royal Mail said that the price rise which came into force earlier in the year was necessary to keep the six-day universal postal service.