BAE Systems: Invesco warns over EADS merger plan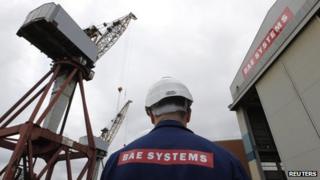 The largest investor in BAE Systems has said it has "significant reservations" over the defence firm's planned merger with Franco-German group EADS.
Invesco Perpetual, which owns 13.3% of the UK company, said in a statement that it "does not understand the strategic logic" of the deal.
Invesco added that it was "very concerned" about the level of state shareholding in a combined group.
On Wednesday, BAE and EADS are due to say if they will continue their talks.
Invesco said that it "believes the merger would materially jeopardise BAE's unique and privileged position in the United States defence market, and has been unable to identify any corresponding benefits to offset this.
"Invesco is very concerned that the level of state shareholding in the combined group will heavily impair its commercial prospects - especially in the US - and result in governance arrangements driven more by political considerations than shareholder value creation."
BAE and EADS face a number of hurdles if the deal is to go through, with France and Germany keen to keep significant equity stakes in the merged group.
And UK Prime Minister David Cameron is facing a Conservative rebellion after 45 MPs signed a letter calling on him to veto the deal.
Although BAE and EADS have presented the tie-up as a merger, one contentious issue is that EADS shareholders would end up with 60% of the new group, and BAE shareholders the rest.
"The merger ratio does not reflect BAE's superior cash generation, or the quality of its earnings stream, derived from the length and nature of its customer contracts," Invesco said.
The investment group concluded that BAE Systems had "strong" prospects as an independent company.
"Invesco believes BAE is a strong business with distinctive positions in the global defence market - especially in the US and UK - and good stand-alone prospects," it said.
'Red line'
On Sunday, Defence Secretary Philip Hammond said France and Germany must reduce their stakes in EADS if the UK is to allow a merger to go ahead.
He told the BBC that it was a "red line" issue for the UK.
He said the government was willing to use its golden share in BAE, which allows it to block any change in control of the UK-listed company.
The two companies announced they were in discussions over a possible merger on 12 September.
Speaking on BBC Radio 4's The World This Weekend, Mr Hammond said: "We have made very clear that we do have red lines around the BAE-EADS merger and that if they can't be satisfied, then we will use our special share to veto the deal.
"It is not, I think, necessary to have no French or German government interest in the company. It is necessary to reduce that stake below the level at which it can control or direct the way the company acts."
Earlier, Chancellor George Osborne said the proposed $45bn (£28bn) merger must ensure British security and jobs are preserved.
EADS boss Tom Enders has previously urged politicians not to interfere in the proposed deal.