Businesses 'lack trust' in banks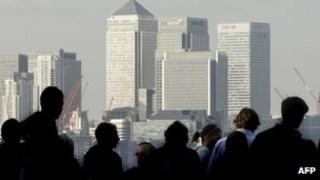 Businesses' trust in banks and other financial institutions is falling, according to a survey from the British Chambers of Commerce (BCC).
Half of the 1,560 businesses questioned said they mistrust banks and building societies, while 38% said they trust them less than a year ago.
Banks and building societies remain the main source of finance for firms.
Meanwhile, a separate survey revealed businesses' hiring intentions fell to a 28-month low in September.
But the report from accountants BDO also said that business optimism showed a rebound this month, "continuing the zigzag pattern of ups and downs in confidence of the last four years".
'Repair relationships'
The BCC survey said 57% of firms felt confident they could secure external finance, while 37% said they were not confident of doing so.
Some 59% of those polled said a government-backed business bank would make them more confident about accessing finance.
But when asked about government-backed finance schemes, 43% of firms had not heard of any, with younger businesses and micro firms most likely to be unaware of them.
"Financial institutions need to rebuild trust and repair damaged relationships with businesses and improve transparency," said John Longworth, the BCC's director general.
"Regulators should look to increase competition in the banking sector to ensure businesses have more choice, and the government must ensure that plans to create a British Business Bank mean more funds available to growing businesses."