BAE Systems-EADS merger: Conservative MPs voice fears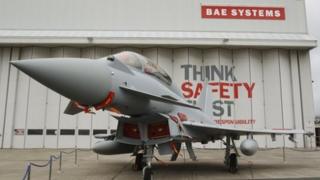 Dozens of Conservative MPs have written to the prime minister to voice concerns about the planned merger between defence firms BAE Systems and EADS.
The 45 MPs say a deal would hand the bulk of Britain's defence industry to a company which would not safeguard UK interests. EADS is mostly owned by the French and German governments.
Both companies have denied reports that the merger talks are in trouble.
The move would create a powerful defence and aerospace giant.
The deal, designed to create a defence and aerospace conglomerate to rival Boeing of the US, would mark the union of the French, German and British defence industries in a way that was originally mooted way back in the 1990s.
The Conservative MPs who have voiced their concerns believe the company would come under political pressure from France and Germany, which have both made it clear they would want significant shareholdings in the merged business.
The letter states that EADS, the European aerospace group, has suffered from political interference in the past.
The MPs claim it would be naive to assume that the two governments would not continue to get involved in the affairs of the merged company.
It calls on Prime Minister David Cameron to ensure that if the deal goes ahead, it does so without government shareholdings.
Meanwhile, EADS and BAE Systems have both denied press reports that the deal is on the brink of collapse, because of differences between governments over the level of state involvement in the new business.