West Coast mainline and the mistakes that ended rail bid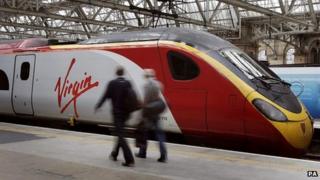 The BBC has learned more details of mistakes made by the Department for Transport that led to the collapse of First Group's bid for the West Coast mainline.
As well as forgetting to take inflation into account, officials were responsible for double-counting.
They also took short-cuts that were against the rules.
The system used to decide the contract was extremely complex, but the mistakes that killed it were simple.
Failing to include inflation assessing the level of risk in the bid is not such a problem when you are looking six months ahead.
But it is a disaster if you are trying to predict the economy in 2025.
Fatal flaw
The computer models they used were specifically designed by the Department for Transport to deal with a whole bundle of franchise contracts due for renewal in the next few years.
This was the first big test.
We also now know that the fatal flaw wasn't discovered until last week - it then took until Tuesday of this week to unearth its true horror.
The fact that human error played such a part casts a shadow over previous franchise bids, although they would have been decided using a different computer model.
It will be some months before a review decides whether the whole system needs to be changed.