The Bottom Line on boardroom politics and being small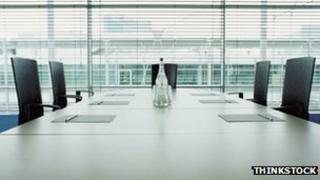 Every budding businessman or woman dreams it making it into the boardroom - but they haven't always thought about what they'll do when they get there.
Between them, my guests on the Bottom Line this week had spent decades in boardrooms of every shape and size. I asked them to share their tips on how to handle the politics of the top table - everything from hidden agendas, to clashing egos, to a plain old failure to agree.
Ken Olisa, the entrepreneur who recently co-founded the boutique technology merchant bank, Restoration Partners, told us about one board meeting he attended, years ago, which perked up a bit when the chief executive arrived with a large shot gun.
For a moment, everyone wondered whether that meeting was going to be their last. It turned out that he simply hadn't been able to leave it in his car. But the mere fact that it was there, leaning ominously in the corner, changed the dynamic of the whole meeting. Well, yes. You can see how it would.
Stuart Fletcher, the new head of Bupa, the international healthcare company, had not experienced anything so colourful. But he said he had had some difficult board meetings in Nigeria, earlier in his career.
Stuart thought it was important to get arguments aired at the meeting itself, not try to stitch everything up beforehand.
But that wasn't the line taken by my third guest, Eileen Gittins, chief executive of the online self-publishing company Blurb.
She thought it was always important to talk through potentially troublesome issues with people before the meeting, so there weren't any nasty surprises. But then, she's an internet entrepreneur from crunchy northern California. They like to connect.
We also talked about the pros and cons of being an upstart. And considered whether the internet plus the new wave of digital manufacturing technique, had shifted the balance of advantage away from large companies - at least in some sectors.
Are old-style economies of scale about to be trumped by the new economy of the small? Watch or listen to the programme on BBC Radio 4 to find out.