UK consumer spending 'rose in September'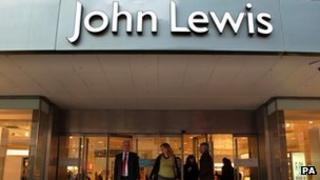 Shoppers stocking up on winter clothing helped consumer spending to rise at its fastest rate for more than three years last month, a survey has said.
Visa Europe's UK expenditure index found that sales rose 3% in September, the biggest rise since May 2009.
As well as clothing sales, consumers were spending more in hotels and restaurants, the survey found.
Separate figures from John Lewis showed its department stores enjoyed a strong rise in sales last week.
Total sales in the week to 29 September were up 26.5% from the same period last year, with trading also boosted by shoppers buying new coats and shoes for the coming winter.
Temporary respite?
The Visa Europe survey found that "face-to-face" spending on the High Street enjoyed a 1.6% rise last month.
However, online spending dropped 1.5% and mail order/telephone shopping saw a 3.7% decline.
In August, online spending had seen a sharper 9.3% drop. This echoed the latest findings of the Office for National Statistics (ONS), which said retail sales fell in August as people watched the Olympics instead of shopping on the internet.
The Visa survey said September's spending was up 0.2% from a year earlier. Spending in the three months to September compared with the previous quarter was 1.9% higher.
"The data... add to evidence that the economy pulled out of recession in the third quarter, but still leaves the question of whether this is merely temporary or the start of a sustained upturn," said Chris Williamson, chief economist of research firm Markit, which compiled the report.
On 25 October, the first estimate of economic growth in the three months from July to September will be released by the ONS.
It is expected to show the UK economy returned to growth - helped by a boost from the Olympics - having contracted for the previous three quarters.
'Perking up'
The recent colder weather meant consumers had been put in "the right mood for shopping", according to Maggie Porteus, head of selling operations at John Lewis.
Women's wear sales were up 49% last week from a year earlier, with sales of women's boots 165% higher.
Howard Archer, economist at IHS Global Insight, noted that John Lewis' sales increase had been boosted by the firm's having four more stores open than a year ago.
However, he added: "The robust John Lewis sales provide a lift to hopes that consumers are perking up a bit and helping the economy exit recession and eke out modest growth."