US Fed says low interest rates are likely until 2015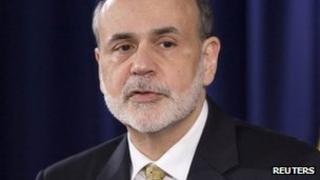 The Federal Reserve is likely to keep US interest rates at the current near-zero rate until 2015, minutes from its September rate-setting meeting have shown.
US rates have remained at between zero and 0.25% since December 2008, as the Fed aims to help boost the US economy.
The minutes also confirmed that the central bank wants to specifically help the housing market.
Later on Friday, the latest US unemployment data will be released.
At the Fed's September meeting, it announced a third round of quantitative easing (QE), the policy of pumping fresh money into the economy with the aim of boosting commercial lending, and in turn economic growth.
Under what has been called QE3, the Fed is buying $40bn (£25bn) of mortgage-backed securities per month, for an open-ended period.
The minutes showed that the Fed had chosen to specifically buy these securities, which are typically bonds, because members of its key Open Market Committee want to "directly support the housing sector, which remains weak but has shown some signs of improvement of late".
The Fed has previously spent $2.3tn over two rounds of QE.