Samsung sees record profits on smartphone sales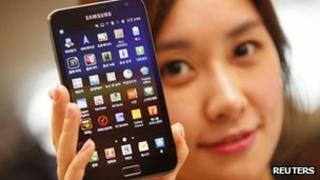 Samsung Electronics has estimated record profits in the three months to September, led by strong sales of its Galaxy smartphones.
The South Korean company said it expects operating profits of 8.1 trillion won ($7.3bn; £4.5bn), nearly double last year's figure.
The estimates beat analyst expectations sending Samsung shares 1.5% higher.
However, ongoing legal tussles with Apple have cast a shadow over its future performance.
Smartphone sales drive much of the profit at the company which also makes screens, semiconductors and televisions.
Analysts said the record profits were largely driven by gains in that sector offsetting other parts of the business which are not showing drastic change.
"Stronger than expected sales of Galaxy S3 and high-end television models appear to have propelled strong earnings growth in the third quarter," said Lee Sun-Tae, from NH Investment & Securities.
However, Samsung's higher-end Galaxy line of smartphones pits it directly against Apple's iPhone.
This has led to several different legal disputes between the two smartphone market leaders in various countries around the world.
Analysts said, the recent decision in a California court in Apple's favour would be one of the factors putting pressure on Samsung going forward.
In a court ruling in August, Samsung was ordered to pay more than $1bn in damages to Apple after Apple accused Samsung of violating several of its patents.
"Fourth-quarter earnings will depend on how much Samsung will (set aside) provisions for possible fines relating to a lawsuit with Apple," said James Song from KDB Daewoo Securities.
Samsung has now called for a retrial.
The company is due to officially report full earnings later this month.