Nationwide ends interest-only mortgages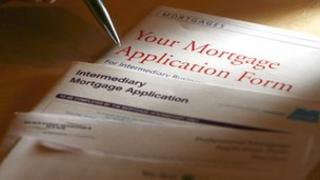 The Nationwide building society will stop offering interest-only mortgages to new borrowers from 11 October.
It is the latest big lender to take this step, in response to pressure from the Financial Services Authority (FSA).
The Nationwide said its existing customers with interest-only mortgages could keep them, but not extend them.
A spokeswoman said the deals accounted for only 3% of new lending and they were not worth the hassle of checking that borrowers could repay.
In May, the Co-op bank took a similar step.
Other lenders, such as Santander, HSBC and the Nationwide itself, had decided to offer such deals only to people who can put down at least a 50% deposit.
Andrew Montlake of mortgage brokers Coreco said: "This is a massive step for Nationwide to take and it could well have a big effect on other lenders who have been monitoring this sector of the market closely.
"Unfortunately, too many people have used interest-only in the past as a way of making sure they can actually afford the mortgage in the first place and deferred worrying about how they are going to pay it back."
Last year, the FSA announced that from 2013 it would enforce new rules to ensure that lenders scrutinised the finances of potential borrowers much more closely than in the past.
New interest-only borrowers will have to show that they can afford their mortgages as if they were a capital-and-interest mortgage anyway.
As a result, lenders have been adjusting their behaviour before the advent of the new rules.
Figures from the Council of Mortgage Lenders (CML) show that in 2011, 96% of all new loans to first-time buyers were on a traditional repayment basis.
That was a vast increase from the situation in 1988, when only 12% of first-time buyers had such loans.
Ben Thompson of the Legal & General Mortgage Club said: "The number of mortgages taken out on an interest-only basis over the last year or so has been dropping significantly and therefore a decision like this now, whilst frustrating for some, won't impact as badly as it would have done if pulled over a year ago."