Las Vegas: Can Sin City regain its mojo?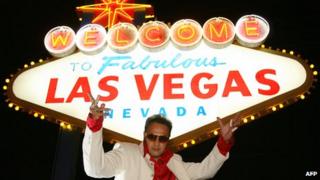 Las Vegas is internationally renowned for glitz, glamour and gambling, but while the number of visitors has increased year-on-year, the local economy remains in a slump.
The city's economy relies on tourism, gaming, and conventions, but the sparkle faded when the financial crisis of 2008 hit town.
"The city was vulnerable because it was an economy based on consumption and real estate speculation," says Prof Robert Lang at the University of Las Vegas.
Those two sectors bore the brunt of the crash and the construction industry suffered the biggest displaced work force.
However, Dr Lang notes that the city is doing better than the rest of the state of Nevada because Las Vegas hosts four Fortune 500 companies that are in gaming - two of which receive a majority of their income abroad in places like Singapore and China.
"The repatriation of that wealth has boosted the regional economy, but it has not produced a lot of employment," he says.
Asked whether the uneven pattern of economic growth found in Las Vegas is symbolic of what is happening in the whole of the US, he says the jury is out.
"In the case of Las Vegas, my guess would be that you would not see the rate of growth seen in previous decades, he says.
He points out that there are opportunities in areas like information technology and healthcare.
"We only have about two-thirds of the healthcare that we should have based on the size of the population in the region," he says, adding that 40,000 jobs would be created by addressing that single issue.
Modest mayor
Mayor Carolyn Goodman, who took over from her mob-lawyer turned politician husband who was in power in Las Vegas for more than a decade, is understandably upbeat about the city's prospects.
Unlike her husband's office which was filled floor to ceiling with pictures of him with stars, football players, gorgeous ladies and a horse's head from the film Godfather, she is keen to point out that her more modest surroundings look out over the new developments such as the Smith Center of Performing Arts and the Cleveland Clinic for degenerative brain diseases.
Despite such developments, she is hesitant about discussing the economic issues facing her city.
"We don't want to do statistics," she says.
When pressed, she says that the city still faces problems: "We have huge foreclosure issues but we are beginning to see ways to solve them."
She explains how there was an explosive population growth 12 years prior to the economic downturn and more than a third of the population worked in construction.
"Then there was a halt to the development which supported carpenters, painters and electricians.
"They are sitting without big development right now so that further hits the economy. They are not giving back in buying because they are out of work," she says.
Effort has gone into establishing international direct flights from different cities around the world.
"That brings in convention business - it fills rooms, it has people out shopping for food and purchasing things."
Beyond that, she explains how she supports the growth of small enterprises.
"When businesses close down, they are available for younger people who want to open a new restaurant, a jewellery shop, a clothing store, or a gallery," she says.
Lucky for some
One of the beneficiaries of the economic crash has been real estate companies which rent, rather than sell homes.
"Many people have either lost a home to foreclosure or short sales, but these are families that need a place to live," says Steve Schmitz at American Residential Properties.
The company started four years ago after the real estate crash and now owns more than 1,100 homes.
"With the financial crash there was a huge paradigm shift," he says, explaining that there was a great opportunity for his company when house prices fell 50-60%.
"In the boom years, if you could fog a mirror, they'd lend you $300,000 to buy a house. So we tried to make a buyer out of everybody. That changed, and that change is going to stay with us for quite some time," he says.
"Our mission is to not necessarily be the biggest, but to be the best, and we're out providing a real need for these residents.
"As long we can have an economic model that rewards our shareholders, that will keep the capital flowing and we can expand the business," he adds.
Prof Lang believes there are other opportunities available because Las Vegas is now an exporter of its product.
"There is a global market for what Las Vegas has created and it's selling it around the world," he says.
MGM, Sheldon Adelson and Steve Wynn, are three investors with a gaming licence in Nevada who have invested heavily in Macau.
The Chinese island of Macau, with a target market of two billion people, overtook Las Vegas in terms of gambling revenue in 2006 and has been booming since.
In Las Vegas meanwhile, the $3bn (£1.85bn) Fontainebleau complex, with almost 4,000 hotel rooms, 24 restaurants and a theatre seating 3,300, stands empty.
Las Vegas, also known as Sin City because of its tolerance for various forms of adult entertainment, has been chastened, and it is debatable whether it will ever reclaim its crown as the gambling centre of the world.