Olympics and Tour de France boost Halfords bike sales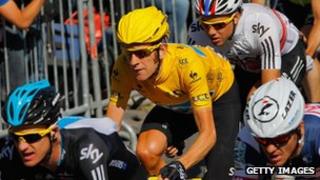 Halfords has said that its sales of bicycles and accessories were boosted by British successes in the Tour de France and Olympic cycling.
Like-for-like cycling sales, which exclude new stores, rose 14.7% in the three months to 28 September.
Overall like-for-like sales were up 5.6% in the quarter, following a 5.6% fall in sales the previous quarter.
On Wednesday the retailer appointed the former head of UK retailer Pets At Home Matt Davies as its new chief executive.
In May, Halfords reported a 27% fall in full-year profit to £92m.
It expects to report first half pre-tax profits of between £40m and £42m when it releases its interim results on 21 November.
Halfords is predicting full-year profits for this year at the top end of its previously stated range of £62m to £70m.
"Management comments have sensibly retained an air of caution," said Keith Bowman, equity analyst at Hargreaves Lansdown Stockbrokers.
"Consumers remain pressured, whilst the group's sensitivity to the weather has been starkly underlined over previous quarters."
In addition to trading from about 460 Halfords stores, the group has 260 Autocentres, which service and repair cars.
Like-for-like sales at the Autocentres were up 12.4% in the quarter, while sales at the Halfords stores were up 4.6%.